COVID-19: Information about the coronavirus in Taos, New Mexico.
Since the beginning of October we have started to see more COVID-19 cases in Taos County. It is very important for members of our community to wear masks, stay 6-feet apart, avoid interacting with non-household members, and stay home if you can.
If you are sick, remember that it is very important to avoid spreading the virus. Please call your primary care physician, or doctors office before you visit. We are taking very careful precautions to keep our patients & staff safe. We have initiated a screening process outside the hospital. Everyone entering the hospital will be screened.
For more information on COVID-19 and the Taos medical community:

Could I have COVID-19?
People with COVID-19 have had a wide range of symptoms reported – ranging from mild symptoms to severe illness.
Symptoms may appear 2-14 days after exposure to the virus. People with these symptoms or combinations of symptoms may have COVID-19:
Cough
Shortness of breath or difficulty breathing
Or at least two of these Symptoms:
Fever
Chills
Repeated shaking with chills
Muscle pain
Headache
Sore throat
New loss of taste or smell
Information regarding COVID-19 is changing constantly. Please refer to the CDC website for the most up to date information.
If you are sick and experiencing those symptoms, call the Coronavirus Hotline at 1-855-600-3453
The New Mexico Health Department also has an online screening tool to help concerned citizens assess their risk of having COVID-19.
Where can I Get Tested?
Holy Cross Medical Center has two options for testing. If you are having COVID-19 related symptoms, you can get tested at the E.R. entrance.
If you would like to get tested, but you are not having symptoms, we have a COVID-19 testing clinic at the Annex building that offers testing by appointment Monday through Friday from 9am to 6pm (closed for lunch noon-1pm). Call to make an appointment: (575) 751-8951
There are also more testing options in Taos and around the state. For a list of testing sites across New Mexico visit the NMDOH list here:
If you believe you may have been exposed to the coronavirus or have symptoms of the coronavirus it is important to call the State of New Mexico Department of Health coronavirus Hotline at: 1-855-600-3453. You will be asked a set of screening questions and they will give you suggestions according to your answers. If you come to Holy Cross Hospital for testing, we will be following the same screening process and you may possibly be able to save yourself a trip to the emergency department. We know you are worried about this virus, but please remember that our emergency department will remain open for all kinds of medical emergencies and these screening methods are in place to keep you, our staff, and our patients safe.
Where can I find Information about COVID-19?
We suggest that everyone stay up to date using the following state and federal resources for health related information.
Information about the COVID-19 Vaccine.
Update From CEO Bill Patten – March 11th, 2021
Update From Dr. John Foster – March 9th, 2021
COVID-19 Vaccination Update – Feb, 2021
Vaccination Billing Issues – Your Questions Answered.
There are some rumors going around that we have been billing for vaccinations. We do not bill for vaccinations, they are free, but we do bill your insurance. If your insurance tries to bill you for your vaccination, please let us know and we'll help get it sorted out.
Information about how the Vaccine Works and Whether or not it is safe
Dr. Foster mentions two links near the end of the video.
ZDoggMD with Dr. Paul Offit:
https://www.youtube.com/watch?v=Ho2VRaIzj28&feature=youtu.be
A PSA From Dr. Lucas Schreiber About the COVID-19 Vaccine:
https://www.youtube.com/watch?v=WBtxa8pdOxY&feature=youtu.be
Public Forums Hosted by Holy Cross Hospital
We are doing our best to keep you informed on how Holy Cross Medical Center is handling the COVID-19 pandemic. We wanted to offer digital forums to allow the community to ask questions and to showcase some of the other organizations that are going above and beyond in Taos.
The Novel Coronavirus and Kids
Tele-medicine is now offered for your safety.

Facts About the Coronavirus
An Update About Surgeries During the COVID-19 Outbreak
Holy Cross is Here for all the Health Care Needs of our Community
How the coronavirus might affect your pregnancy
Should I come to the Emergency Department for symptoms?
Symptoms of coronavirus can vary from very mild symptoms, to typical flu like symptoms, to severe pneumonia. The most important thing to know is that fever with difficulty breathing and cough are symptoms that need to be investigated. Cough, fever, and shortness of breath, are the three symptoms together that raise the concern for coronavirus, particularly in an individual with possible exposure to another individual with corona virus. The vast majority of people who have coronavirus will have symptoms similar to the flu and will not need care in an emergency department or a hospital. If you have these symptoms please call the coronavirus hotline at 1-855-600-3453, but if you believe you need medical attention please go to an emergency room
Have there been any cases in Taos County?
There have been positive cases in Taos County. If you would like to stay up to date on number of cases New Mexico has confirmed, please visit the NM Department of Health website at: cv.nmhealth.org
What should I do?
Practice good hygiene. The most important thing to do is to wash your hands with soap and water for 20-seconds frequently. If you do not have access to soap and water, use hand sanitizer.
Practice social distancing. If you can stay at home, please do. If you have to go out, try to stay 6-feet away from other people.
Cough in to your elbow or a tissue and then wash your hands.
If you have symptoms, stay at home. If you live with other people, please try to separate yourself from other household members. Clean regularly used surfaces in your house often and disinfect. If your symptoms worsen and you feel you need medical attention, please call your primary care provider or go to an emergency room.
What is Holy Cross doing?
The health of our community is our priority and we are working closely with state and federal agencies to help prepare for the possible spread of this virus. Some of the steps we have taken include:
Limited Visitor Access

The hospital is closed to all visitors. The only exception will be when a doctor writes an order to allow a visitor (i.e., a parent to be with a young child). We are also going to begin limiting non-hospital personnel coming into the building.

Limited Building Access

All patients and visitors will enter through one point of access, the ED Entrance. Other public entrances will be locked.

New signage will be placed on all of our entrance doors with the instructions regarding these new rules.

Social Distancing will be implemented throughout the hospital including waiting rooms, hallways, meeting rooms, etc. The number of chairs in the waiting rooms has been reduced and the chairs have been moved further apart.
The Wheeler Peak Café will be closed to the public until the risk of virus transmission is deemed to have lessened. In addition, the number of employees allowed in the Café at any point in time will be reduced. For example, tables designed for four people should only have two people using them.
We have developed new cleaning teams that will assist our EVS employees with twice-daily cleaning of high touch areas in our public spaces.
Lab and Imaging will be closed on Sunday's starting April 5th.
What services will Holy Cross Hospital be providing?
Holy Cross Hospital is taking all steps necessary to prepare for the possibility of patients in need of additional medical care due to the spread of the coronavirus, but we will also be maintaining our services to those not affected by the virus. Though there will be strict measures in place that will affect the way you access care, we are your local hospital and will continue to give the same great quality care to our community.
We do have testing available for the virus, but with a limited national supply, we are screening all possible cases before administering these tests. If you are experiencing symptoms, please call the coronavirus hotline 1-855-600-3453 for a remote screening, they will offers you advice on whether or not you need to come in for a test.
How can I stay Healthy?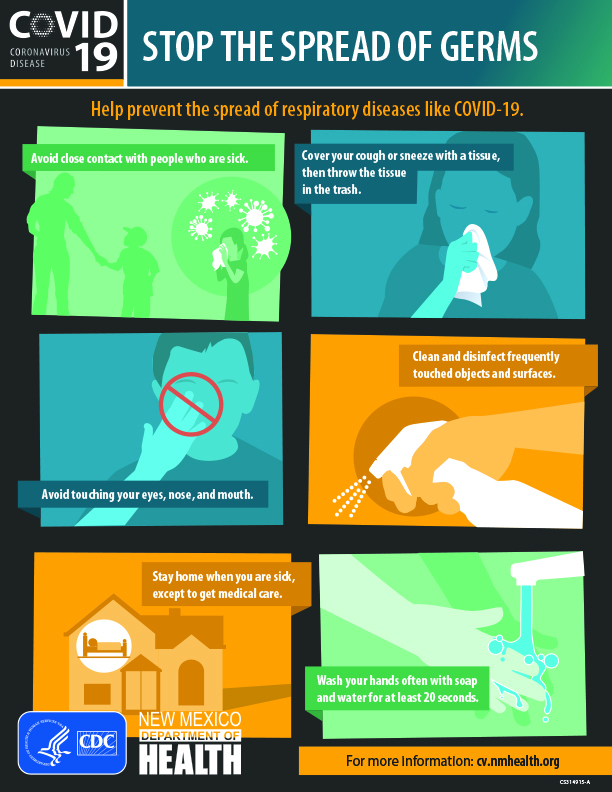 Avoid close contact with people who are sick.
Cover your cough or sneez with a tissue, then throw the tissue in the trash.
Avoid touching your eyes, nose, and mouth.
Clean and disinfect frequently touche objects and surfaces.
Stay home when you are sick, except to get medical care.
Wash your hands often with soap and water for at least 20 seconds.
Entrance Signs for Clinics and Businesses
We know businesses may be concerned about being open to the public, so we have put together this warning sign for locations that want to avoid having sick people enter their business.