October is Breast Cancer Awareness month and Holy Cross Hospital wants you to Paint Taos Pink! Paint Taos Pink! is a month-long campaign that raises awareness for breast cancer by hosting events and collecting donations for Taos Cancer Support Services. A breast cancer diagnosis is a scary thought, but when breast cancer is discovered early it is highly treatable. According to the American Cancer Society (ACS), when breast cancer is detected early, the 5-year survival rate is 99%. The sooner you know, the better the treatment options. The ACS suggests that women ages 40 to 44 should have the choice to start annual mammogram screenings if they wish to do so, and women 44-54 should get mammograms every year. Women 55 and older should switch to mammograms every two years or continue yearly screenings. Women should administer self-checks for lumps or anything abnormal once a month. Holy Cross Hospital has a state-of-the-art digital 3D mammography machine that offers better, earlier breast cancer detection right here in Taos.
Total breast care in Taos
Dr. William Dougherty is a double board-certified General and Plastic Surgeon. He has been caring for cancer patients and providing reconstructive surgery for over 35 years. He moved to Taos after practicing in Santa Fe for 10 years, and he loves to share his expertise with the Taos community. His time in Santa Fe helped him establish a close working relationship with the Cancer Center of Santa Fe, which allows him to better support patients in creating treatment plans that suit their lifestyles.
Dr. Dougherty is here to guide patients through every step of their treatment, from discovering a lump to reconstructive surgery, he will help identify state-of-the-art, personalized, expeditious treatment. Surgery to remove tumors, and mastectomies are procedures Dr. Dougherty provides right here in Taos. Dr. Dougherty is also able to explore medication alternatives with patients such as medical cannabis and CBD.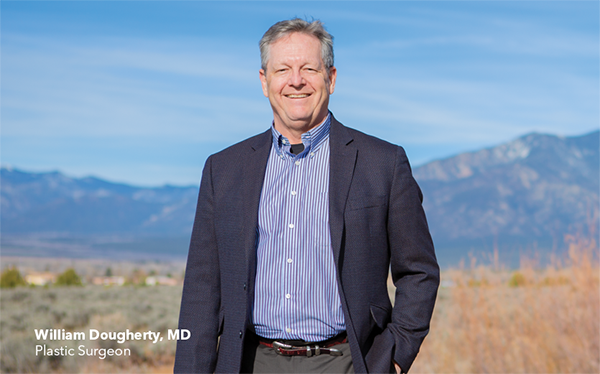 When possible, Dr. Dougherty offers reconstructive surgery and mastectomies during the same appointment, which means patients can avoid two separate surgeries. This can reduce a patient's recovery time from 12 weeks to 6 weeks and result in a less stressful experience for the patient. Reconstructive surgery due to breast cancer treatment is often covered by insurance. Many breast anomalies discovered before the age of 40 are benign, and Dr. Dougherty offers a wide range of cosmetic surgeries as well as breast reduction surgery. Breast reduction surgery can improve a patient's lifestyle and is often covered by insurance. Not only does Dr. Dougherty focus on breast cancer treatment, he focuses on total breast health. Dr. Dougherty practices at Taos Breast & Plastic Surgery located in Taos. As a member of the Holy Cross Medical Center family, he works closely with the OBGYNs at Holy Cross Women's Health Institute, the imaging and radiology team at Holy Cross Hospital, and can connect patients with Holy Cross Cancer Support Services.
Please call (575) 758-1064 to talk to a member of the Taos Breast & Plastic Surgery team or visit: TaosPlasticSurgery.com
Cancer Support Services
When it comes to filling the gap between cancer treatment and personal well-being, Holy Cross Cancer Support Services provides non-medical support to people in Taos & Colfax counties. Cancer Support Services serves area residents from early diagnosis up to a year after their last treatment. Offerings include assistance with lodging for medical appointments, cancer resources & services navigation, house cleaning, personal care, Taos Food Coop gift cards, yoga & fitness activities, and transportation assistance (including gas cards). Cancer Support Services is funded by grants and donations.
Through the month of October, there are many ways to support this great program and make sure that these free services remain in our community. Learn more at TaosCancerSupport.org