Amryn Ayres,
PT, DPT
Physical Therapist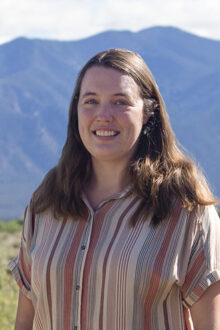 Amryn moved up to Taos after a stint in the big city (Albuquerque). Originally from a small town in Montana, she wanted to get back to her mountain town roots and found Taos during her
adventures. She received her doctorate of physical therapy from the University of New Mexico and has practiced in outpatient orthopedics since her graduation. Amryn has experience with various orthopedic conditions from post-op knees to neck pain, and enjoys helping people with a variety of conditions. Her treatment philosophy is to address the person as a whole and help them get back to the things they love. Because life is meant to be lived!
When Amryn is not in clinic, she can be found wandering the mountains with her fur baby or finding, and indulging in, delicious food. Any recommendations are welcome! She looks forward to meeting and working with you!