Andy Torres
Board Secretary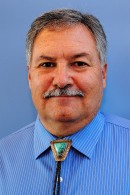 Andy grew up in Arroyo Seco, New Mexico. His parents and brothers are still there. He enjoys giving back to the Taos community and helping the hospital meet the health needs of neighbors, family, and friends and the overall community. He feels the hospital is a very important organization in Taos.
As a Holy Cross Hospital trustee, Andy has served on the board since December 2007. He currently serves on the Joint Conference Committee, the By-Laws Adhoc Committee, and the Personnel and Labor Relations Committee. He enjoys working with the hospital staff, doctors, and other board members.
Andy and his wife of 26 years have two children and two wonderful grandchildren.
Andy has a MA from New Mexico State University in Curriculum and Instruction; as well as a Certificate in School Administration. He has a BS from New Mexico State University in Elementary Education with a Minor in Spanish. He has a Bilingual Education Certificate. He is licensed to teach elementary education. At the secondary level Andy is a licensed to teach English, Spanish, Bilingual Education and English as a Second Language. He is also licensed as a School Administrator at any level and any administrative position.