Karen Matherlee
Vice President of the Board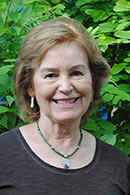 Karen moved to Taos nine years ago after a 30-year career in Washington, DC. She had been co-director of the National Health Policy Forum at George Washington University, where she developed workshops and site visits on federal and state health policy issues for congressional and executive health staff. Prior to that, she held constituency relations, legislative, and communications positions in the American Hospital Association's Washington Office. She also spent several years in member- and committee-staff positions in the House of Representatives, United States Congress.
She has a B.A. in English from the Ohio State University; an M.A. in Political Science from the State University of New York, College at Brockport; and a Certificate to Teach English as a Second or Other Language from the University of Maryland, Baltimore Campus.
Since coming to Taos, she has volunteered as an English and GED tutor and as a U.S. citizenship instructor at the Adult Learning Center, UNM-at Taos. She has a son, a daughter-in-law, and two granddaughters.