Sarah Lenneman,
PT, DPT
Physical Therapist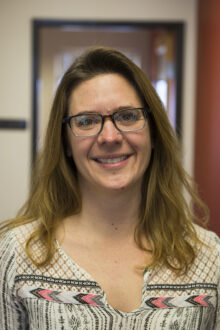 Education:
B.S. in Exercise Science: Gonzaga University (2003)
D.P.T. : Regis University (2006)
Bio:
Sarah Lenneman recently moved to Taos to expand her work experience in the primarily out-patient setting and to enjoy the sunny mountains of New Mexico. She grew up in Montana and moved to Colorado to attend PT graduate school. She has spent the last ten years working at a specialty acute rehabilitation hospital in Denver. Sarah has experience treating various populations and diagnoses but her passion remains working with patients with neurological-impairments, especially traumatic brain injuries and strokes. She enjoys the creative and multi-faceted process involved in treating neurological patients and has advanced training in NDT and PNF techniques.
Sarah enjoys the outdoors, hiking, rock-climbing, running, as well as spending time with her dogs. She loves live music and also enjoys reading, yoga, and listening to NPR on the more mellow side.