Tim Moore,
MD
OB/GYN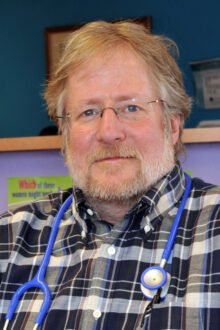 Bio:
Dr. Moore was diverted into medicine after working with his graduate school mentor, world renowned general surgeon Dr. Johnson who was also a zoologist. Dr. Moore says after he did graduate work for Dr. Johnson he decided to go to medical school in Seattle.
After working for a while in Massachusetts Dr. Moore was ready to return to the west. Being from Denver, Colorado he wanted to be close to the Rocky Mountains. He had vacationed in Taos and Santa Fe as a child and had grown to love the southwest. He says he and Dr. Mohling hit it off right away and he was excited to practice at Women's Health Institute.
He loves the area and enjoys being part of the community that he also loves taking care of. And, he still finds it fun delivering babies. He has two beautiful children who he is very close with. He enjoys cooking and baking and can make a really good cake. He also enjoys hiking, skiing, and mountain biking.
Dr. Moore is Board Certified in Obstetrics and Gynecology and a Fellow in the American College of Obstetricians and Gynecologists. He received his medical degree from the University of Washington school of Medicine and completed Residency from the University of Washington Affiliated Hospitals.