Mission/Vision/History
Mission
To provide our community with the best health care choices close to home in an environment of continual improvement.
Vision
Holy Cross Medical Center is a progressive organization where great care comes together to create a healthy community.
Operating Principles
The principles which will guide us in performing our mission and accomplishing our vision are constancy of compassion, trust, courtesy, respect and continuous acquisition of knowledge in an atmosphere of responsibility, accountability and confidentiality.
Every plan, decision, and action shall be guided by these values and operating principles:
Service excellence to our customers comes first.
Patient safety and continuous quality improvement are the basis of our Life Wings culture
Education must be encouraged, supported, and made available if we are to fulfill our dreams and reach our potential. Being both teacher and learner, Holy Cross Hospital will support training opportunities with other health care partners.
Teamwork is the basis of our organizational structure to develop workforce excellence.
Integrity shall never be compromised.
Respect is the foundation for all our relationships.
Caring for and partnering with our community is our primary purpose.
As we subscribe to these values, we shall be Professionals in the Profession of Caring.
History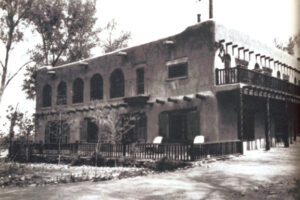 In 1936 the United States was in the midst of the Great Depression. It was the year after the Town of Taos was incorporated, and the it was the year that Mabel Dodge Lujan donated a house to the Town of Taos to be used as the Taos community hospital. The house donated by Mabel Dodge Lujan was run by The Sisters of the Holy Family of Nazareth, and functioned as Taos' hospital for nearly twenty-five years. This original, ten-bed hospital included an operating room, obstetrics, x-ray and nursery units, and included both a men's and women's ward.
From its earliest days, Holy Cross Hospital has incorporated the rich history and culture of the Taos community into its practice of care provision. The Hospital was a haven for sick and injured, treating native Taoseños and newcomers alike and combining old traditions with new and innovative treatments.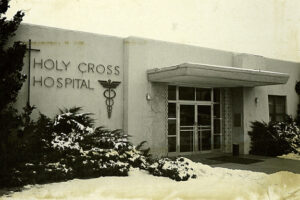 The Hospital expanded in 1960, increasing the number of beds to 28. For the next thirty years the Hospital had a succession of owners. In 1991, voters in Taos County overwhelmingly passed a ½-percent county-wide gross receipts tax to finance construction of a totally new medical complex. Today, Holy Cross Hospital is an 89,000 square-foot, not-for-profit, 29-bed community hospital, with a local governing board that includes both physicians and community members.
From Doctor Ashley Pond's diagnosis of the first case of plague in New Mexico in 1949 through the 2009 introduction of a full-field digital mammography machine, Holy Cross has always been proud to be at the cutting edge of innovative care provision.