Taos Cancer Support Services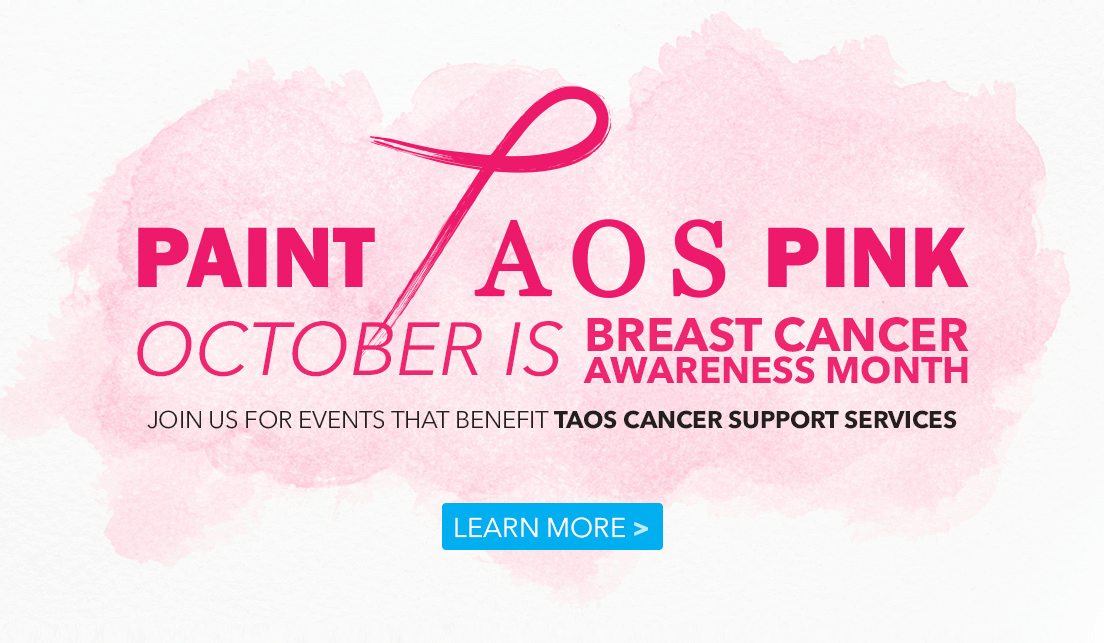 Taos Cancer Support Services exists to serve the needs of people with cancer in the greater Taos area, and provide non-medical support to ease the burden and promote healing. We connect you with trusted local, state, and national services to help meet basic needs, ease stress, and promote healing while also supporting tangible needs that arise due to treatments being outside of our local community.
We serve greater Taos area residents from early in their diagnosis up to one year after their last treatment. Our program is funded solely through grants, fundraising, and generous donations.
Services Include:
Health care navigation
Support group meetings
Grief support
Fitness, health, and cancer coaching
Massage, yoga, acupuncture, and other modalities
Assistance with transportation costs like: gas gift cards, lodging, and food
Resources and updates in our monthly email newsletter
Additional Services:
Weekly Cancer Support Group Meetings
Tuesdays from 4pm – 5pm
Taos Cancer Support Group is meeting at the TCSS office at 413 Sipapu St. from 4pm – 5pm and is intended for survivors of cancer, any age or gender, at any point in their cancer journey. 

 

The group meetings are held weekly, at no charge, and are led by cancer survivors who are trained and experienced group facilitators. Please call or email if you are interested in joining.
Support for family and caregivers is also available.  Please contact the office for more information.  
Cancer Support Group Meetings are led by Mary Short and Cobey Senescu. Mary is a cancer survivor that recently retired from her work as a Mammography Technologist. Cobey also is a cancer survivor that recently retired. They have both been actively involved in Cancer Support Groups not only as facilitators, but also from the perspective as participants. They are trained and experienced in Support Group facilitation and love being there for others by creating a safe listening place for people to share their feelings, fears, and experiences in dealing with their own cancer journeys.
The purpose of these meetings is to provide a safe place where people affected by cancer can support each other, develop friendships, share ideas, and thoughts while learning coping skills in a non-judgmental, caring atmosphere.
Our Cancer Support Group provides:
A sense of belonging reducing isolation
Empathy by being understood by others who have had cancer
A safe place for expressing feelings, experiences, and fears
Activities and discussion that allow for all to relax and feel at ease – helping to build warmth as a space for a sense of humor and positive thoughts for healing
If you would like more information on the program, or if you have any questions, please feel free to give us a call at (575) 751-8927 or send us an email at cancersupportservices@taoshospital.org.
---
Road to Recovery
*This is an American Cancer Society program, and is currently not in service due to COVID-19.
This is an American Cancer Society service program that provides transportation for cancer patients to their potentially lifesaving cancer treatments and home again. Volunteer drivers from the community donate their automobiles, gas, and time to assist area cancer patients. There are currently only five Road to Recovery drivers in Taos.
For Cancer Patients
To request a ride to your treatments or cancer-related appointments, please call: 1-800-227-2345 (toll-free).
For Volunteer Drivers
For more information on how to volunteer please call: 1-800-227-2345 (toll-free).
---
Volunteer
We are always looking for more volunteers to help make our program run as smoothly as possible! If you are interested in volunteering please give us a call at (575) 751-8927 or send us an email at cancersupportservices@taoshospital.org.
Donate:
All donations go directly to Taos Cancer Support Services and the needs of our clients experiencing cancer. Our program is funded solely through grants, fundraising and generous donations.

Our 5K walk and fun run event, "For the Health of It" takes place every summer in June. We also have our annual "Paint Taos Pink" event each October in honor of Breast Cancer Awareness Month. During this event, we host a silent art auction with local artists, health and wellness classes such as Zumba and Yoga, and dedicated local restaurant spotlight days where a portion of their proceeds goes directly to Taos Cancer Support Services — all to support our program and community members experiencing cancer.

Donations can be given at any time through this website or by sending a check made out and sent to:*All donations are tax-deductible.*

Taos Cancer Support Services 413 Sipapu Street Taos, NM 87571
Social Media:
Follow us on:
Address
Taos Cancer Support Services - Main Office
413 Sipapu Street
Taos, NM 87571
Map
News
View All News Posts >