Holy Cross Women's Health Institute
Holy Cross Women's Health Institute is your complete resource for women's health care in Taos. From well-woman exams to family planning to osteoporosis care, we're here for all the women of Taos and northern New Mexico, at all stages of life and health. Our physicians, gynecologists, and certified nurse midwives provide a range of health services to address all aspects of a woman's health, her whole life long.
At Women's Health Institute, we're northern New Mexico's close-to-home resource for a full spectrum of health care. Women's Health Institute is where women in Taos and the region go for confident, compassionate health services — we focus on your health, from your perspective. Whether you want to keep your mind healthy or your bones strong, Holy Cross Women's Health Institute is here for you.
If you're due for a well-woman exam, please give us a call and we'll be happy to schedule an appointment within one week. This includes your annual mammograms. All of our services are available right here in Taos!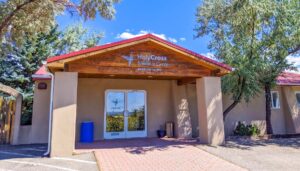 At Holy Cross Women's Health Institute in Taos, along with our focus on general women's health and wellness, we also offer services or assistance with a wide variety of concerns, including: obstetrics and gynecology; motherhood and family planning; lactation consultations; adolescent and puberty health care; family medicine; tobacco, alcohol, and substance abuse assistance; weight issues; breast issues and breast care; community health; and violence prevention.
Staff