Labor and Delivery
Over the last 85 years, Holy Cross has been proud to serve many generations of Taoseños as they bring new life to our community. The Labor and Delivery department at Holy Cross Hospital has helped deliver over 10,000 babies since 1937 and our local practitioners provide excellent care throughout pregnancy, during birth, and into childhood.
Our family-oriented Labor and Delivery department offers an innovative birthing concept right here in Taos. Holy Cross Hospital's Labor and Delivery department strives to offer the comforts of home, with an emphasis on keeping the delivery of babies as comfortable as possible. Our staff provides the best medical expertise and technology while prioritizing the needs of the family. We know that how you choose to go through labor is deeply personal. Our staff will work with you to follow your birthing plan closely assuring the safe and healthy birth of your child on your terms, including medicated and unmedicated birthing options.
As an expectant mother, you will be in one of our three comfortable rooms with a comfortable birthing bed, hardwood floors, a rocking chair, plenty of sunlight from a large window, and ample room for your family to visit you and your new baby. Support people are encouraged to stay as well, each room has an additional pull-out bed and will be included during meal time. Each room also includes a mini-fridge so that you can bring and store your own snacks and food if you would like. Unlike larger facilities, you will remain in the same room for labor, delivery, recovery, and postpartum care with an intimate team of experienced, professional, and compassionate nurses. With our smaller Labor and Delivery team, mothers get lots of one-on-one care and support from our great staff of nurses, doctors and midwives.
Along with the supportive team of nurses in our Labor and Delivery department, Holy Cross Women's Health Institute has three OBGYNs and two Certified Nurse Midwives that are on-call for births. If you are an expectant mom we encourage you to learn more about Women' Health Institute and schedule a consult today. Learn more about Women's Health Institute >
Our support doesn't stop after birth. Holy Cross Hospital offers many programs for new parents that will provide additional support after you get settled in with your new family member. Parents have access to lactation professionals, supportive home visitors, family navigators, classes, and family support groups. Learn more about our postpartum support programs below.
Our Labor and Delivery department offers centralized fetal monitoring which allows both nurses and physicians to monitor the mother and unborn child's condition. Holy Cross Hospital uses the Novii Wireless Patch System which is a wireless and comfortable fetal monitor that allows us to monitor baby without putting restrictions on labor and birthing choices. This technology allows your health care team to analyze the baby's status for signs of fetal wellbeing or distress at any time. With a healthy birth, mothers can expect to be discharged as soon as 24 hours after the time of birth. C-section births are usually released after 48 hours. 
A specialized level 1 nursery for newborns requiring extra assistance is just a few steps away from the birthing rooms. There is also a triage room to assess the urgency of need by expectant moms just coming into the labor and delivery area.
We want you and your family to have a birthing experience that has the comforts of a birth at home with the safety and support of being in a hospital. Expectant moms and dads are welcome to come by, tour the Holy Cross Hospital Labor and Delivery department, and meet our experienced and friendly team.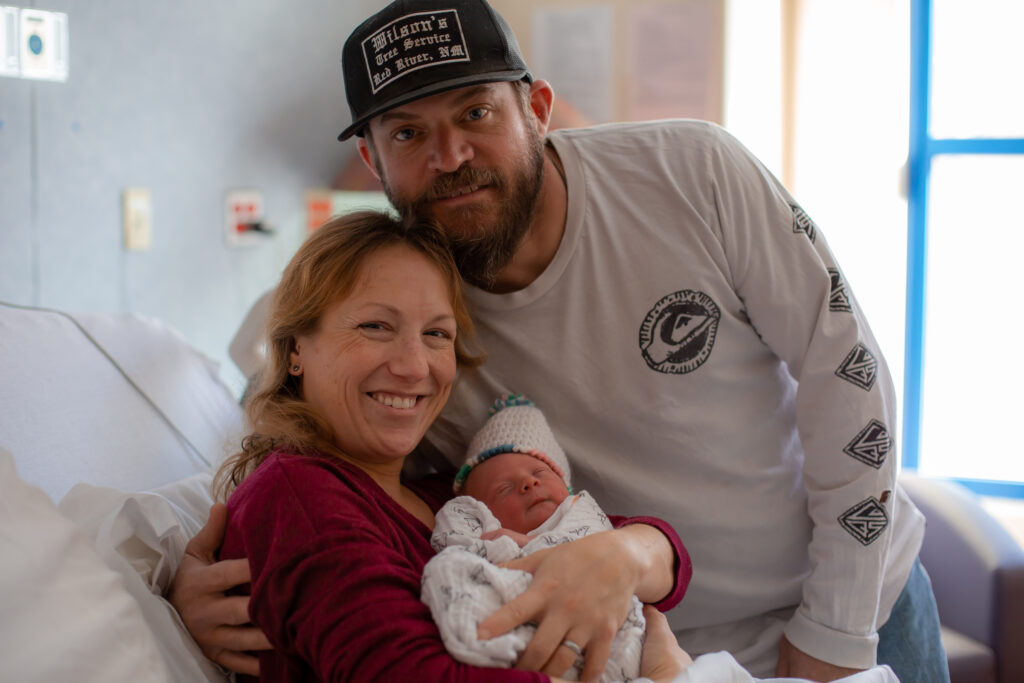 Additional Services For Pregnant Women, New Moms, and Families