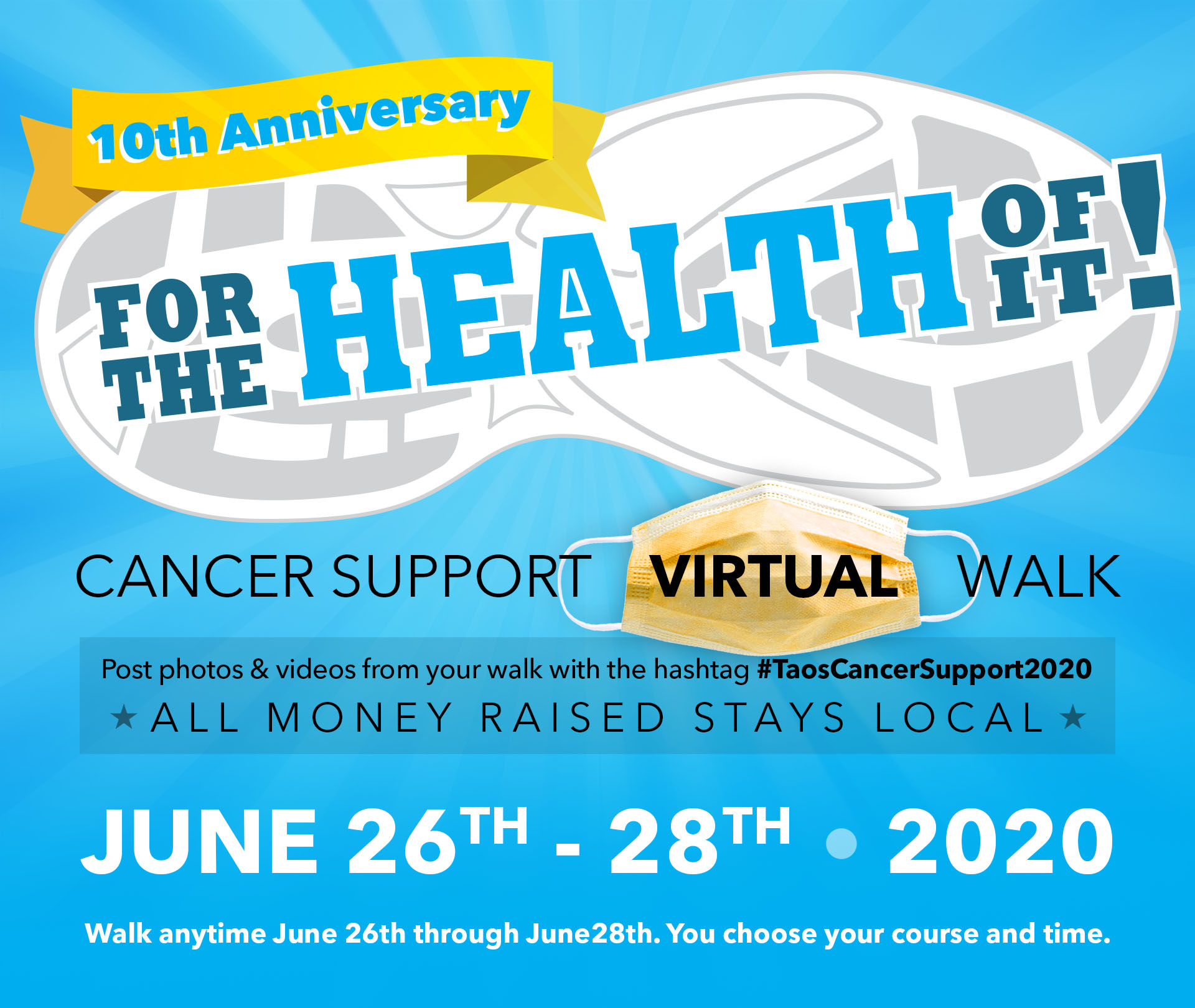 Please join us for the 10th Anniversary For The Health of It!  This year our fun walk will be a virtual event for your entire family and dogs can walk too!  All proceeds go directly to the Taos Cancer Support Services Program which provides non-medical support to our community members in Taos & Western Colfax counties who are fighting cancer.
---
Registration and T-Shirt Pickup Info
We will have on-site Event Registration and T-shirt/bandana pick-up:
10:00 to 3:00 WEDNESDAY June 24th – Friday June 26th
Community Health Services office parking lot
413 Sipapu, Taos, NM 87571
(corner of Salazar Rd. and Sipapu)
575-751-8927 or 575-737-3374
---
FAQ's
How does the virtual walk For The Health of It! work?
Unlike our events in the past years, the virtual walk does not have one specific location and can be completed any time June 26th – 28th. You can walk, run or hike outside, or use a treadmill inside. For the Health of It is great for the entire family as you can walk where you want and at your own pace!  Please keep your safety and the safety of others in mind and observe all social distancing guidelines.  (CDC recommended social distancing guidelines) : https://www.cdc.gov/coronavirus/2019-ncov/prevent-getting-sick/social-distancing.html
Why should I sign up?
For The Health of It! is one of only two fundraisers we have each year for Taos Cancer Support Services. This is our largest event that attracts over 200 participants each year.  This year, because of the global health crisis, we had to cancel the event in it's usual format.  This could drastically affect the funds available to serve our program clients battling cancer.
All proceeds go to provide non-medical services to our community members in Taos and Western Colfax counties struggling with cancer.
Registrants will receive a t-shirt or bandana that shows your support.
How do I get my shirt and registration materials?
We will have on-site Event Registration and T-shirt/bandana pick-up:

10:00 to 3:00 WEDNESDAY June 24th – Friday June 26th
Community Health Services office parking lot
413 Sipapu, Taos, NM 87571
(corner of Salazar Rd. and Sipapu)

575-751-8927 or 575-737-3374