Laboratory
The Holy Cross Laboratory will be open for outpatient services:
Monday – Friday: 6:30 AM – 6:00 PM
Saturday/Sunday: 7:00 AM – 12:00 NOON
Laboratory Capabilities
The Holy Cross laboratory offers a diverse array of services to both outpatients and inpatients. The outpatient blood-draw area is only a few steps from the Lab lobby, and privacy cubicles assure patient confidentiality.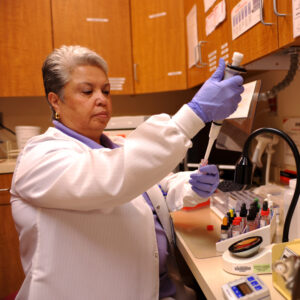 Accredited by the College of American Pathologists (CAP). Full-time pathologist on staff.
Microbiology and Immuology
Coagulation
Virology – Rapid Influenza & RSV
Parasitology
Blood Bank
Hematology
Cytology
Pathology
Chemistry
Urinalysis
Anatomic Pathology
The Lab has a full-time Histotechnologist who assists in preparation of surgical and cytology specimens. Services include surgical, specimens, office biopsies, needle aspiration cytologies, bone marrows and autopsies.
Surgical Pathology
A surgical pathologist studies tissue samples from patients taken during surgery. The pathologist will help diagnose diseases and work with patients to develop treatment plans. Our team works hard to deliver excellent patient care and develop enduring and trusting patient/physician relationships.
Our final pathologic report integrates the morphologic report with the results on ancillary studies.
We provide effective communication with patient care providers on urgent diagnoses, and significant, unexpected diagnoses.
A pathologist oversees the handling of all specimens, and performs grossing of all specimens.
The pathology/histology team performs and reports frozen section diagnosis directly with the surgical team in the operating room.
The average turn-around-time for all tissue specimens is within three business days.
Fine-needle Aspiration and Needle Core Biopsies
Fine-needle aspiration and needle core biopsies are minimally invasive, and offer rapid recovery for the patient. Specimen quality and adequacy assessment are performed during these procedures.
Cytology and histology correlation promotes a definitive and accurate diagnosis.
The final pathology report emphasizes pertinent information for the care of patients, and the integration of pathologic findings with clinical information.
Address
1397 Weimer Rd.
Taos, NM 87571
Phone
Map
Resources