Laboratory
Hours
Monday thru Friday 6:30 am – 6:00 pm Saturday and Sunday 7:00 am – noon
Phone
575-751-5880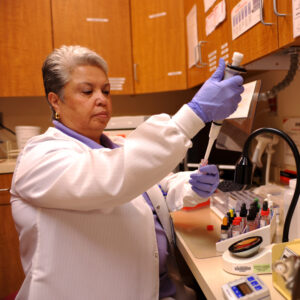 The Holy Cross laboratory offers a diverse array of services to both outpatients and inpatients. The outpatient blood-draw area is only a few steps from the Lab lobby, and privacy cubicles assure patient confidentiality.
Laboratory Capabilities
Accredited by the College of American Pathologists (CAP). Full-time pathologist on staff.
Microbiology and Immuology
Coagulation
Virology – Rapid Influenza & RSV
Parasitology
Blood Bank
Hematology
Cytology
Pathology
Chemistry
Urinalysis
Anatomic Pathology
The Lab has a full-time Histotechnologist who assists in preparation of surgical and cytology specimens. Services include surgical, specimens, office biopsies, needle aspiration cytologies, bone marrows and autopsies.
Staff
News
View All News Posts >