First Steps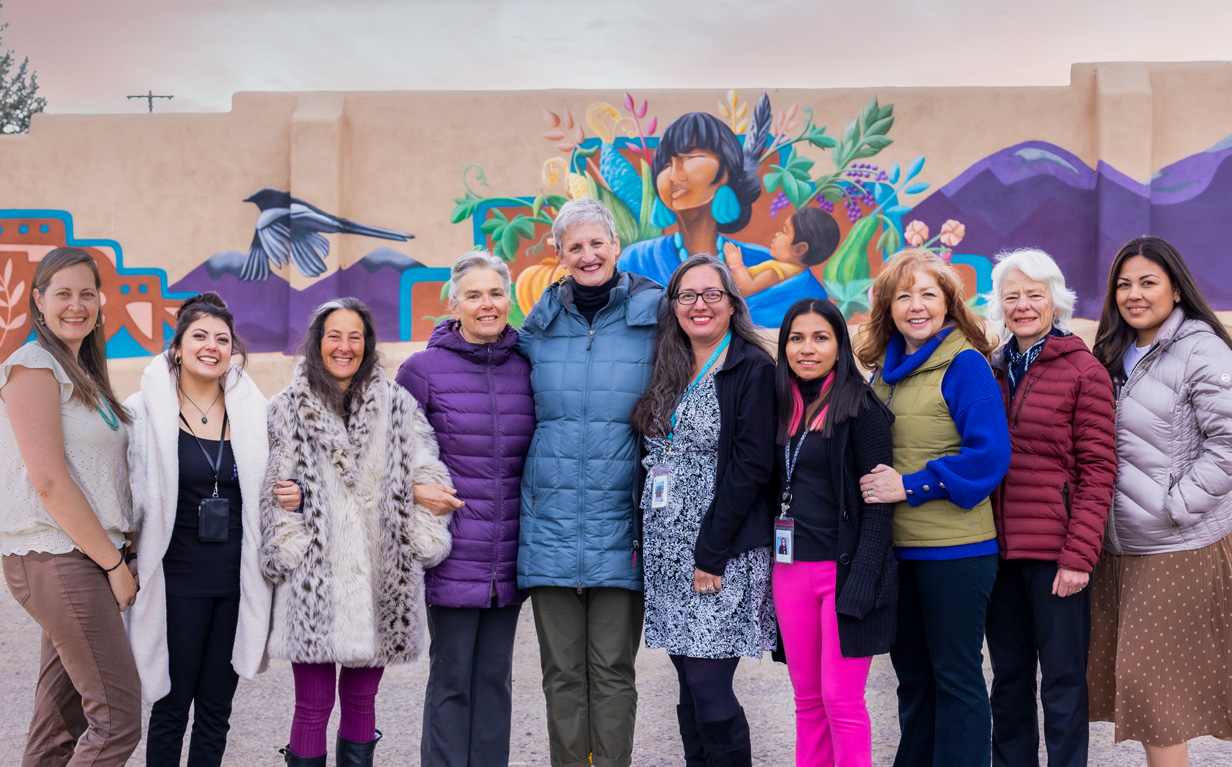 Holy Cross Hospital's First Steps Program provides home visiting services to parents of children ages prenatal to five, including fathers, adoptive parents, and foster families in Taos and Western Colfax Counties.
Home visiting services provide parents with information, support, and access to resources in our community that promote early childhood development and a positive family foundation.
We help parents adjust, grow, and change as they make their way through the ups and downs of parenthood. We also celebrate with them as their child grows and changes. Each milestone – cutting a first tooth, or taking a first step – is a joy to witness.
First Steps home visitors help prepare parents to cope with the everyday stressors associated with the transition to parenting, which are inevitable when a new baby enters your family. We work with other community organizations to help parents navigate the systems that are available to reduce those stressors. This leaves more time and energy for the joys of parenting as the family builds a relationship with their child.
At the foundation of our program is the home visitor's relationship with the family. The Home Visitor is dedicated to being responsive to a family's priorities, needs, and concerns. Together parents and home visitors establish family goals and work as a team to accomplish them. Parents are given the information, resources, and tools that they may need to become confident advocates for themselves and for their children. We support families as they build strong relationships with their children.
We are proud of our First Steps program and we are proud of our parents who are taking their first steps to provide the best for themselves and most of all, the best for their child. Don't just take it from us, see what a few of our families have to say about their experience with First Steps in the video below.
History of the Program
Home visiting programs were first introduced in the United States in the early 1960's under the Federal Migrant Health Act and the Economic Opportunity Act. The intent is to use community members to provide support and education, particularly in the health-related fields. This concept has been used in urban and rural areas, with at-risk and non-at-risk families. It is easily replicable because it capitalizes on resources within the community and draws community providers together.
In January of 2007 Holy Cross Hospital was awarded a grant from the NM Children, Youth and Families Department (CYFD) to begin home visiting services for first-time parents in Taos and Western Colfax counties. The name, Taos First Steps, reflects the first steps that both child and parents make as the family grows and changes.
Taos First Steps was awarded the American Hospital Association's NOVA award in 2009. The AHA honors leadership by its member hospitals and health care systems by presenting AHA NOVA Awards annually to the bright stars of the health care field that improve community health status. Taos First Steps is honored to have received such an auspicious nationally recognized award. Click here for more on the NOVA Awards.
First Steps' success is due in large part to community partners and supporters. We work very closely with Women's Health Institute, Taos Clinic for Children and Youth, WIC, and Taos Public Health Office, Los Anjelitos, Paso y Paso, and the Taos Homebirth Midwives.
Address
413 Sipapu St., Taos, New Mexico 87571
Map
Staff
News
View All News Posts >