Now Hiring Registered Nurses
Above Market Pay with Increased Sign-on Bonuses
Holy Cross Medical Center is actively recruiting long-term local nurses to fill permanent positions at Holy Cross Hospital. The above-market salaries for registered nurses surpasses many other organizations in our region and we are offering increased sign on bonuses. Please contact Vanessa Garcia directly for more information about nursing positions available. Vanessa Garcia, HR Recruiter: (575) 751-5731 or email: vgarcia@taoshospital.org
Team Taos is an initiative to recruit as many full-time, local nurses as possible with the following three goals:
First, Holy Cross will be encouraging nurses that previously worked for Holy Cross Hospital or reside in the community to bring their skills to Holy Cross Hospital.

Second, offer current traveling nurses permanent positions.

Third, hire as many UNM Nursing graduates as possible and support locals who are pursuing fulfilling careers in healthcare and want to remain in Taos.
If you are interested in pursuing a career at Holy Cross Medical center, please contact Vanessa Garcia, HR Recruiter:  (575) 751-5731   |  vgarcia@taoshospital.org
Current Employment Opportunities.
To see a list of current opportunities and to apply online for one of the positions, please use the following link.
We're the employer you've been looking for.
Holy Cross Medical Center provides excellent in-patient hospital care, health education, out-patient services and clinic-based health services within northern New Mexico. We're your community hospital, and exceptional healthcare begins with an exceptional environment for caregivers comprised of over 400 employees.
In addition to being the health care choice for patients, we strive to be an employer of choice for staff. We are always pleased to welcome outstanding and talented people to the Holy Cross family to be part of our team.
Holy Cross offers rewarding career opportunities in an environment of teamwork, professionalism, and respect. Together, we combine technological expertise with a special human touch providing quality health care, hope and healing.
Holy Cross Medical Center offers an exceptional benefits program to its employees. The following information will introduce you to the many options employees can elect.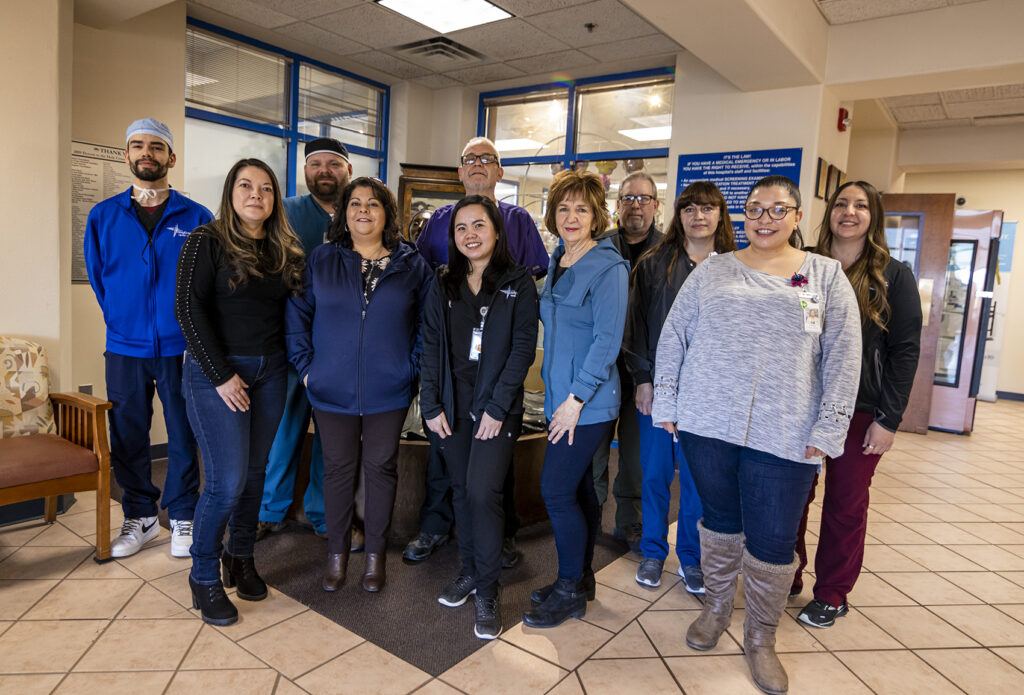 Service Excellence
As as a member of the HCMC team, you have an opportunity to make a significant impact on the lives of those we interact with every day. We acknowledge that it is through our words, actions, and attitudes that our mission comes to life. We have adopted the following values and Standards of Behavior to represent our commitment to excellence for our patients, families, providers, and team members.
Communication
Safety & Quality
Teamwork
Accountability
Respect & Courtesy
Service
Explore New Possibilities
Auxiliary Volunteers
Our 100 plus auxiliary volunteers man our gift shop and surgery desk as well as serve as Emergency Department Advocates logging in close to 9000 hours annually. Simply stated, we couldn't do it with out them! Perhaps becoming one of our volunteers is something you are considering. Contact us at 575-758-8883 to learn more.
Employment Documents
FAQ's: LEARN MORE & APPLY
What is a typical hiring process.?
Complete Virtual online Application
If selected you will be called for an interview
Hiring Manager Interview
Peer Panel Interview
Leadership Panel Interview (for mgmt. positions only)
* The Order, Additions and Deletions of steps are subject to change.
NOTICE to APPLICANTS:
Holy Cross Medical Center and Taos Professional Services, LLC personnel policies and requirements for employment are governed by federal law. Please be advised that all candidates for employment are required to pass the federal drug screen for alcohol and cannabis. This drug screen is very sensitive and will detect traces of cannabis for 30 to 90 days (depending on the amount of use) and alcohol for up to 48 hours.
Although the recreational use of cannabis as well as alcohol is legal in the state of New Mexico, we are required to follow federal law, under which anyone who tests positive for TCH, the main psychoactive compound in cannabis that produces the high sensation, is automatically eliminated from employment with HCMC or Taos Professional Services, LLC for a minimum of 12 months. The same is true for a positive alcohol test. There are no exceptions.
What does Per diem mean?
As a member of our Per Diem staff, you will be there when you're needed most. You'll adhere to a flexible schedule and be ready to hit the ground running during peak operation times, to cover vacations and for special projects. That's because you may be called in to fill a shift the same day as needed. Many times, Per Diem employees may find themselves transitioning into Full-time or Part-time roles within a hospital.
How many hours does a per diem get scheduled?
Your role as a Per Diem employee lends itself to a flexible schedule with varying hours depending on department need and candidate availability
I have already filled out an application; do I have to fill out that information all over again?
We take your application seriously—and that's why each is reviewed separately. So to be considered for a position, you must apply to it directly.
Will I be notified either way regarding an interview?
Here at THS, we want your application process to be as smooth as possible. If you appear to meet the qualifications of the position you are applying for, a director/manager may call you for an interview. If the position closed or we think you may be better suited elsewhere, you will be notified via email. Please take into account that we experience a large volume of applications, so this process may take up to several weeks.
What is a peer panel interview?
THS Peer Panel Interviews offer your potential colleagues a chance to get to know you. They typically consist of 2 to 5 employees from within the department of the position for which you are applying. Since your peers will be familiar with the job, they'll consider your qualifications, experience, and fit within the department and STAR values to decide whether it's the right match.
What is a leadership panel interview?
If you are applying for a management related position, approximately 3 to 5 employees from outside the department for which you are interviewing will take their time carefully reviewing your candidacy.
If I am having trouble applying what should I do?
For assistance about a job posting or career opportunity, you may call our Human Resources department at 575-751-5782 between the hours of 8:00 am to 5 pm Monday through Friday.