Support Holy Cross Hospital and UNM Taos on November 7th!
On the November 7th, 2023 Regular Local Election ballot, registered Taos County voters will have the opportunity to vote in favor of continuing the ½ percent Gross Receipts Tax (GRT) to support your local hospital and the UNM Taos nursing program.
This GRT rate was originally approved by Taos County voters to aid in the construction of the current Holy Cross Hospital facility on Weimer Road, which broke ground in 1993. After the hospital was built and the GRT expired for health care, it was re-allocated to Taos County schools. The tax expired for schools in December of 2022. Recognizing the serious needs of our local hospital, Sen. Bobby Gonzales and Rep. Kristina Ortez championed the passing of Senate Bill 205 which allows Taos County to redirect the GRT rate back to Holy Cross Hospital. The bill passed both the state senate and the legislature and with the support of Governor Michelle Lujan-Grisham, Bill 205 was signed into law in April of 2023. While this legislation was passed and approved at a state level, it is now up to the voters of Taos County to approve directing this tax to support healthcare in Taos County.
We have (Holy Cross Hospital) right here, we need to endorse it, we need to protect it, we need to support it."

Senator Roberto "Bobby" J. Gonzales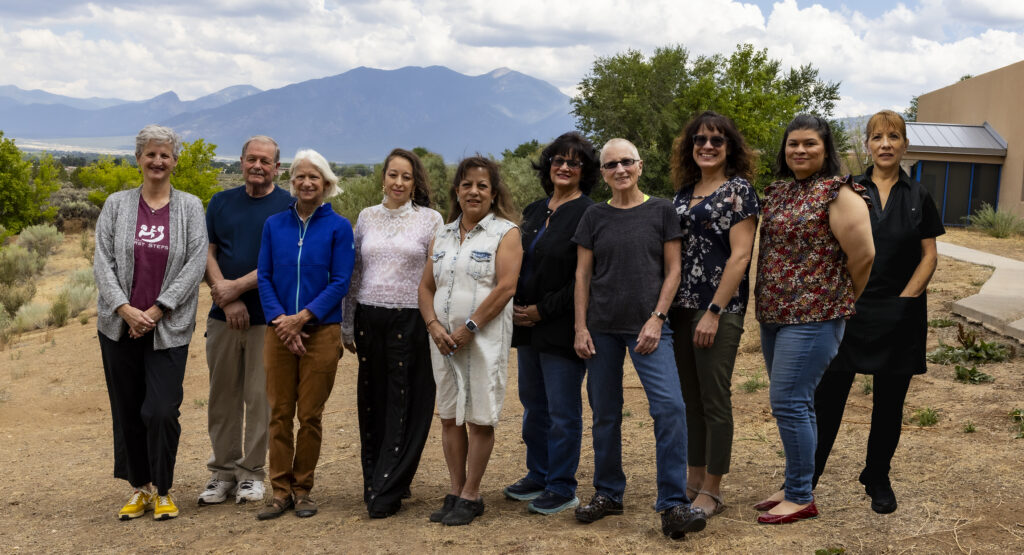 What is the Gross Receipts Tax?
GRT is a tax collected on most goods and services in the state of New Mexico. Food purchased from grocery stores is not taxed in New Mexico. You already pay GRT on most of your purchases and the money collected is used to fund many different state, county, and town projects.
What does this mean for Holy Cross Hospital?
If Taos County voters are in favor of this GRT allocation in November, it would be a vital moment for our local hospital. This GRT will help with capital improvements, equipment upgrades, and will ensure that critical healthcare services remain available to our community. Holy Cross Hospital receives substantially less county tax support than hospitals in Union, Rio Arriba, and Colfax counties.
The communities that support themselves first, are the ones that always win."
– Senator Roberto "Bobby" J. Gonzales
How would the money be used?
75% of the funds collected would be directed to Holy Cross, and the other 25% would go to the UNM Taos Nursing Program. The GRT revenue collected for the hospital can only be used for capital projects and improvements. Our facility is in dire need of repairs, improvements, and new equipment. These funds will help us improve the life-saving care we provide to our community.
How much money would be collected by the county?
We estimate between $2.2-$3 million annually would be collected. 25% of which would go to support the UNM Taos nursing program. The tax will be allocated to Holy Cross and UNM for ten years.
How does this GRT rate affect me?
This would be the same rate that had been in place for decades, not an increase. Because of the nature of GRT, the revenue that would go to support Holy Cross and UNM Taos would be generated by those visiting our community, as well as locals engaging in commerce. Tourists pay a substantial amount of GRT when they visit Taos. This is NOT a property tax increase.
Where does the money go if voters don't approve the GRT rate?
If the ballot measure fails, the money won't be available for anyone to use. The tax that has been in place for three decades benefiting the infrastructure of Taos County won't be collected, and it will no longer be used to benefit the well-being of residents.
I do encourage everyone to support this, to vote for it at the upcoming November election."

Senator Roberto "Bobby" J. Gonzales
What is the current financial state of Holy Cross?
Many things have improved at Holy Cross over the last 5 years, but like many rural hospitals, Holy Cross operates on very tight margins. This is not unique to Holy Cross Hospital, rural hospitals across the state and country face many of the same issues as Taos. Delivering healthcare services in rural communities is
Increasing costs and declining reimbursements from Federal and State governments, Medicare, and Medicaid. According to a 2016 study by the American Hospital Association, two-thirds of hospitals are losing money from Medicare and Medicaid covered care.
The average cost of an emergency room visit, inpatient day, laboratory test, imaging study, and primary care visit is inherently higher in small rural hospitals and clinics than at larger hospitals because there is a minimum level of staffing and equipment required to deliver each of these services regardless of how many patients need to use them. https://ruralhospitals.chqpr.org/Overview.html
Inflation is increasing the cost of general supplies as well as medical supplies.
There is an ongoing shortage of Nurses and Doctors. The demand for medical professionals is not going to decrease, which means that medical professionals are in high demand. Health professionals can get better compensation at larger hospitals in cities. In order to recruit and retain medical staff, rural hospitals need to offer pay that is competitive to urban hospitals.
Over 20% of rural hospitals, the equivalent of 430 hospitals across 43 states are at risk of closing their doors. Since 2010, at least 96 rural hospitals have closed. (According to a 2019 Navigant study)
Aging equipment and facilities. The current building is almost 30 years old and will require major maintenance over the coming years.
Medical malpractice premiums continue to increase.
What's new at Holy Cross and what improvements are in the works?
CEO James Kiser joined the organization in 2022. James has a long history of serving health systems in rural communities. He and the Holy Cross leadership team believe strongly in health care by the community, for the community, with an emphasis on promoting a strong and healthy workplace culture.
We are working to be competitive with regard to salaries, wages and benefits.
We are working to re-recruit nurses and others that have left our hospital to work elsewhere and reduce our dependence on costly traveling nurse agencies.
We have a high-caliber medical staff, and an array of specialists that are not common for a community our size. We are going to maintain that high standard of care and variety of services.
We continually look for ways to improve services to better meet the healthcare needs of our growing community.
We are working with the schools and UNM Taos, to 'grow our own', so that children can stay in their hometown and have well-paying, well-benefitted jobs.
Many administrative positions that were hard to fill with permananent workers have been filled since James began in 2022.
The financial state of the hospital is being monitored closely and necessary adjustments are constantly being made to improve the hospital's bottom line.
How can I help?
Talk to your friends, family, and colleagues about the need to support local healthcare.
Vote

FOR

the "COUNTY HOSPITAL GROSS RECEIPTS TAX" on November 7th or vote early starting October 10th.
Write a letter of support and share it with the Taos News.
Email Marketing@TaosHospital.org if you have any suggestions or a story you would like to share about the hospital.