Home – Hidden
Holy Cross Highlight
Seeking Board of Trustee Applications
The Holy Cross Board of Trustees is soliciting applications from qualified persons to fill two vacant seats on the hospital board.
The two vacancies are for four-year terms
If you are interested in applying, please call Lenora Cisneros at 575-751-5766 or stop by the Holy Cross Hospital Administration Department to pick up an application. You may also access the application below.

Please mail your application, CV, and Conflict of Interest Disclosure Statement to:
Lenora Cisneros, Sr. Executive Assistant
1397 Weimer Rd.
Taos, NM 87571
Or send it via email to lcisneros@taoshospital.org.
Applications must be returned by the April 15, 2023 deadline.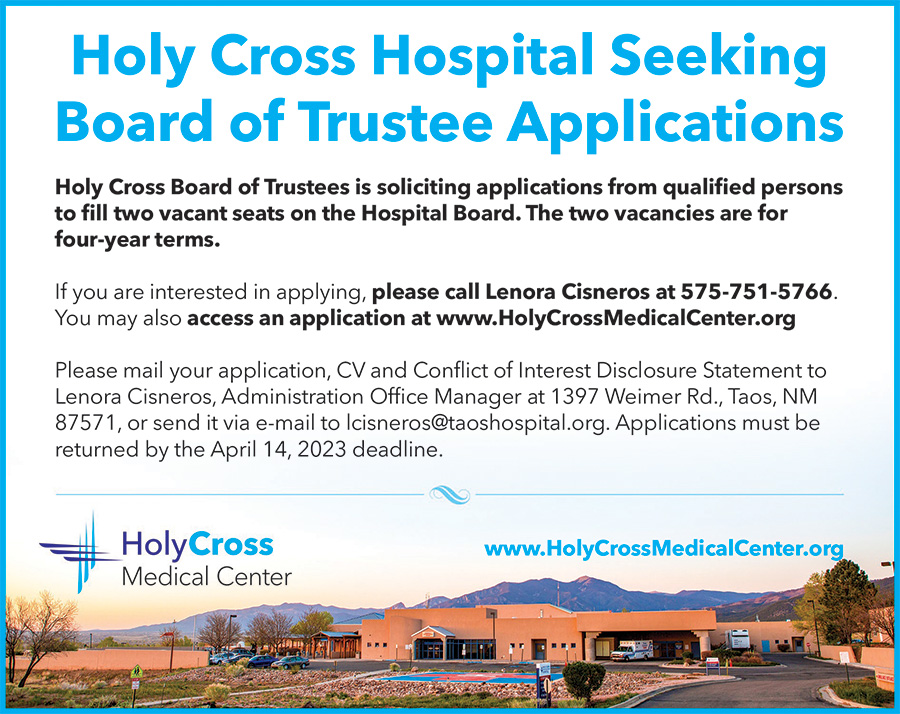 UNM-Taos and Holy Cross Provide Great Career Opportunities for Our Community
Being raised in a rural community has many benefits, but for some teens it can feel like there are a lack of real career opportunities. With graduation looming on their horizon and the pressure to plan for their next leap, many soon-to-be graduates feel the need to leave their hometown to further their education and pursue their careers. For those who want to stay local and make a difference, UNM-Taos offers excellent career building opportunities right here at home and Holy Cross Medical Center is actively trying to hire local healthcare workers.
In the U.S. there has been an ongoing shortage of nurses that was only worsened due to the COVID pandemic. Dawn Kittner has been working with the Nursing Program at UNM-Taos since 2009, and in mid-2021 became the director of the program. When asked about the nursing situation in New Mexico she said, "There is a nursing crisis in New Mexico, where we do not have enough nurses to care for our population. It's been going on for a long time, and it has been extended by the pandemic." Holy Cross Medical Center is currently trying to hire over 30 full-time nurses to fill open positions and to reduce the number of traveling nurses that work in the hospital.
While the goal of Holy Cross is to hire individuals from the local community whenever possible, oftentimes health care staff need to be recruited from outside the state due to a limited local applicant pool. Wouldn't it make sense to promote educational opportunities that would prepare locals for these positions? Luckily for Taos, the local branch of UNM offers an amazing educational opportunity for those seeking a career in health care.
Each fall, UNM-Taos accepts 16 applicants to the Nursing Program which offers both a four-semester associates degree, as well as the option to complete a dual-degree program and in five semesters receive a bachelors in Nursing Sciences. There are prerequisites involved and a student can get an associates degree in nursing in as little as four years and a bachelors in four and a half years. Since the program began, 100% of the students that completed the UNM-Taos Nursing Program have passed the NCLEX-RN exam and 100% of those students found employment as nurses after graduation. On top of having access to this great curriculum locally, UNM-Taos partners with Holy Cross Hospital so that students can get the necessary experience in a clinical setting.
"Going into nursing is life changing for so many of our students. It offers a stable job and good income for their family and allows for lifelong career opportunities from hospital care, informatics, education, and business. The world of nursing is limitless." said Dawn.
In August of 2023, there are 14 students that are likely to graduate and find jobs in our region. Many of the graduates of the UNM-Taos program are locals that choose to work for local health care providers. Holy Cross Medical Center currently employs 38 nurses that are UNM graduates.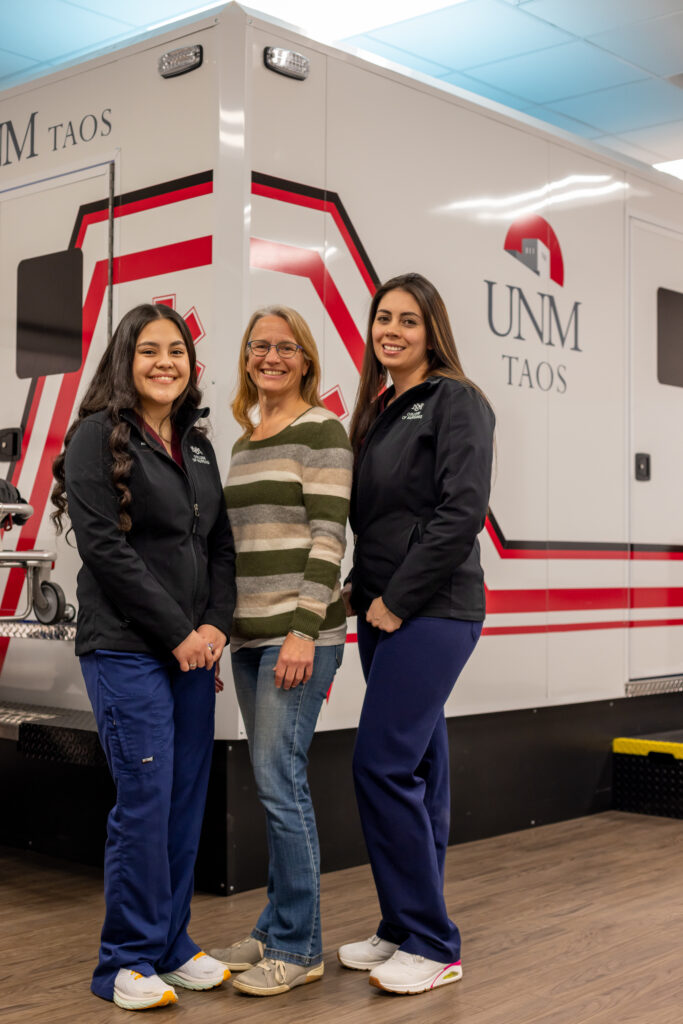 Jessica Gonzales was born and raised in Taos. She graduated from Taos High School in 2010 and began working at Holy Cross Medical Center as a Certified Nursing Assistant before transitioning to a medical assistant role at Holy Cross Hospital's Women's Health Institute & Holy Cross Surgical Specialties. Jessica then completed a Surgical Technologist program offered in-house at Holy Cross and became a Certified Surgical Technologist. Jessica's interest and love for the world of healthcare in her words "blossomed profoundly" and she went on to become a certified Surgical First Assist. In 2021 Jessica was accepted into the UNM-Taos Nursing program and is expected to graduate this August. When asked about working locally Jessica responded "I feel a deep connection to my community and I have an overwhelming desire to care for the people in my hometown. I feel very fortunate to have a nursing program available where I grew up. Working for Holy Cross and the support I have received while getting my degree has been great."
Ashley Martinez, also born and raised in Taos, graduated from Taos Academy in 2019 and for the last 4 years has been working with the Taos Clinic for Children and Youth, which is owned and operated by Holy Cross Medical Center. Ashley also joined the nursing program in 2021. When I asked Ashley how challenging the UNM-Taos program was she responded  "I have enjoyed the last two years and it has been a really great experience. All of the instructors at UNM-Taos are really great. They spend time working with us on the material and I always feel like we can go to them for whatever we need."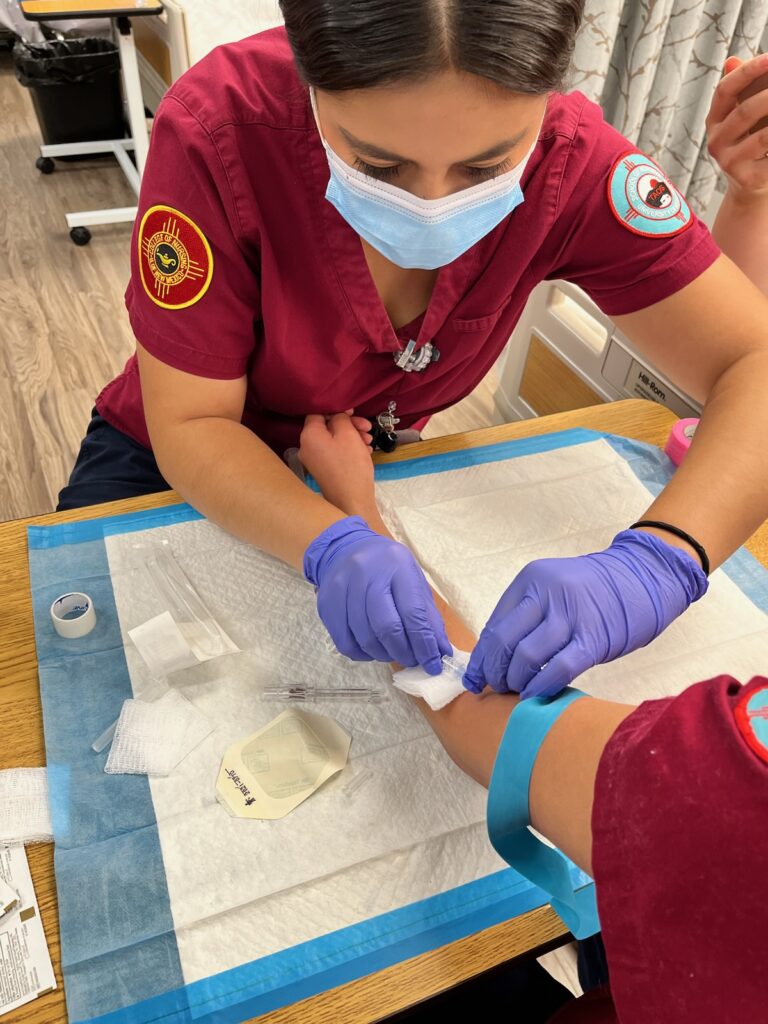 Ashley and Jessica are both shining examples of locals that were able to build rewarding careers and open professional doors without leaving Taos. Having a local hospital and a branch of UNM right here in Taos is providing excellent opportunities for locals to pursue medical careers that can help them care for locals, and also provides the education and skills to work anywhere in the world.
Holy Cross Hospital is eager to hire local health care providers. The partnership with UNM-Taos offers a unique opportunity, making it possible for locals to pursue rewarding careers as nurses right here at home. Find out about local job opportunities at Holy Cross Medical Center by visiting https://holycrossmedicalcenter.org/employment-opportunities
The deadline to apply for the Nursing Program through UNM-Taos is June 15th. The staff at UNM-Taos are happy to help you understand the opportunities, will help you navigate applications, understand your prerequisite needs, and be able to help students get a quality education at low cost. Learn more at taos.unm.edu.
$2,114,150 worth of Patient Debt is Forgiven by Holy Cross Hospital
Medical care is not always the first thing that people consider budgeting for, and emergency situations can leave uninsured individuals with unexpected expenses. Regardless of a patient's insurance status or ability to pay, emergency treatment is offered at Holy Cross Hospital without question, 7 days a week, 24 hours a day. Holy Cross Hospital's billing department works closely with uninsured and low-income patients to help them understand and handle these unexpected medical expenses and to help them identify financial assistance options. Along with support from the billing department, Holy Cross Hospital offers additional support programs to help be prepared for medical care as well as better understand the billing process.
The Benefit Navigation program of Holy Cross Medical Center is available to help individuals understand health insurance enrollment options and provide application assistance. This program helped over 1,000 people access health care benefits over the last year. If you need support signing up for health insurance or have questions about the system, call the Benefit Navigation program at (575) 751-8939.
To provide added support and improve our patients' experience, Holy Cross Medical Center developed the Patient Advocacy program in 2020. Rebecca Ciletti, our Patient Advocate, helps patients navigate their entire experience from the Emergency Room and Inpatient settings to scheduling and billing. If patients have any questions, concerns, or issues about their visit at Holy Cross Medical Center, Rebecca can be reached by calling (575) 751-5866.
At the end of the year, there are often many bills that are left unpaid, and in turn, become "bad debt" for the hospital. Bad debt is a burden that nobody wants to handle, especially not during the end-of-the-year holiday season. To aid those in need, Holy Cross Hospital partnered with local churches and faith-based organizations, to initiate a medical debt relief program.
The Medical Debt Relief Fund is supported by community donations and the funds raised are used to pay off bad debt that remains at the end of the year. This program is more beneficial than just a dollar-to-dollar payoff of bad debt, for every $100 donated to the Medical Debt Relief Fund, $3,333 of bad debt is written off. In December of 2022 Holy Cross Hospital received financial donations that covered over $2,114,150 of bad debt and was able to clear unpaid bills for 1,362 local patients.
The donations for this fund come from community members and local faith institutions. In 2022 $63,424.53 was raised from these local supporters.The 2022 donors include:
B'Nai Shalom Havurah
Earth Journey Inc.
Delores Endres          
Grace Fichtelberg
First Presbyterian Church of Taos
Timothy Long
Neem Karoli Baba Ashram          
Open Heart Sangha Inc.
Ashley D Pond
El Pueblito United Methodist Church, Inc.
Suzanne D Schutze
St. James Episcopal Church
Taos Mountain Sangha
Taos Seventh Day Adventist Church          
Taos United Community Church
Unitarian Congregation of Taos            
United Church of Angel Fire
Unity of Taos
Gerald Vogel
Thank you to all of the supporters, your donations have helped change the lives of individuals and families in your community. If you are interested in donating to the Medical Debt Relief fund for 2023 please reach out to LCisneros@taoshospital.org
Welcome the First Baby of 2023 at Holy Cross
Holy Cross Hospital is proud to welcome Arleen Calva Adame, the first baby of 2023 delivered by the Labor & Delivery department at Holy Cross Hospital on January 1st at 3am. Join us in congratulating Talia Adame and Gregorio Cruz on the birth of Arleen Calva Adame.
Learn more about the Labor & Delivery Department at Holy Cross >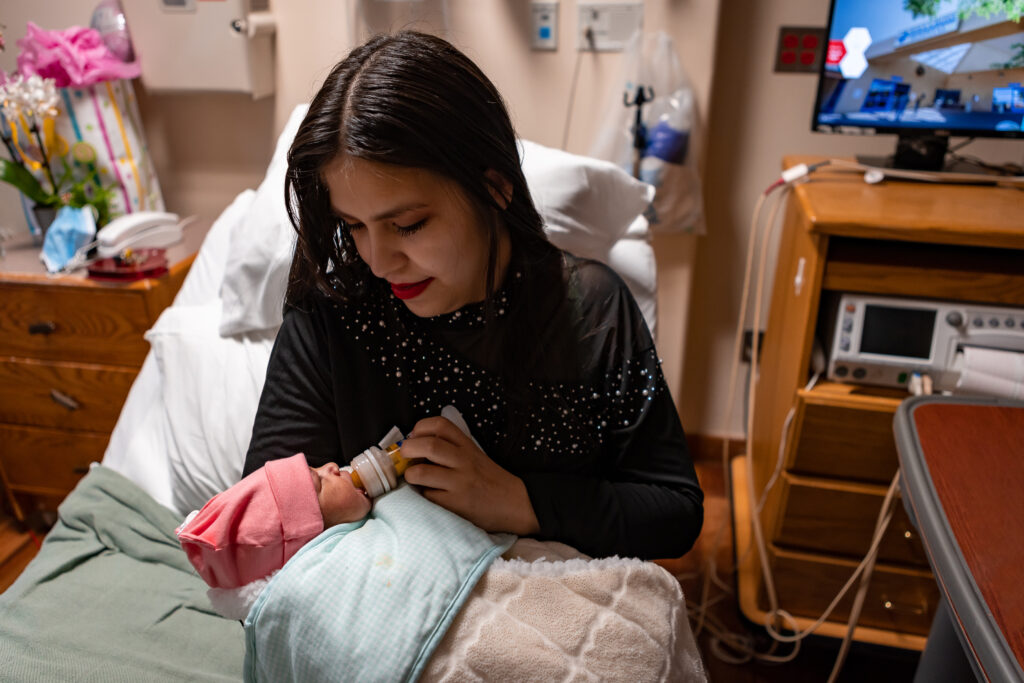 A Look Back at Holy Cross Medical Center's Community Programs in 2022
In 1936 the United States was in the midst of the Great Depression. It was the year after the Town of Taos was incorporated, and it was the year that Mabel Dodge Luhan donated a house to be used as Taos' first community hospital. This original, ten-bed hospital included an operating room, obstetrics, x-ray and nursery units. For nearly twenty-five years this original location on La Posta would serve as the home of Holy Cross Hospital while it was run with the help of the Sisters of the Holy Family of Nazareth. The Hospital was a haven for the sick and injured, treating native Taoseños and newcomers alike, and combining old traditions with new and innovative treatments.
Today, the hospital is an 89,000 square-foot, not-for-profit, Critical Access Hospital located off Weimer Road, directed by a local governing board that includes both physicians and community members. More than a hospital, it is now Holy Cross Medical Center — a family of care that includes a network of clinics, providers, and programs that strive to meet the health care needs of our community.
Holy Cross began with a donation, and in honor of the giving season we thought it would be appropriate to recognize the accomplishments of Holy Cross Medical Center's programs in 2022. Holy Cross is home to programs that provide all of their services for free to the community.
Benefit Navigation
The Benefit Navigation program of Holy Cross Hospital is here to help the citizens of our community understand their health insurance enrollment options and provide application assistance. Theresa Noedel is the Benefit Navigation Coordinator for this program and offers services alongside her co-worker Anna Romero. The services of this program are absolutely free and the team has helped 1,087 people access health care benefits so far this year. Theresa is currently the top Enrollment Counselor in the state of New Mexico and she loves her job assisting people with education, applications, and health insurance enrollments. If you need support signing up for health insurance or have questions about the system, call Benefit Navigation at 575-751-8939. Learn more about Benefit Navigation >
Children's Trust Fund
The Children's Trust Fund program offers free classes and groups to support parenting. All classes are offered in English and Spanish and they collaborate with various agencies in the community to make sure families are connected to services. In 2022 the program was able to provide classes and services to over 100 families through 15 classes, 2 monthly support groups, and 4 summer pop up events that provided various fun activities for children in their neighborhood. The schedule for next year's events is available and all classes are free. Contact Carla to register: 575-751-8904 or learn more about Children's Trust Fund >
Taos Cancer Support Services
The Taos Cancer Support Services (TCSS) program exists to serve the needs of people with cancer in the greater Taos area, and provide non-medical support to ease the burden and promote healing. The team can connect individuals with trusted local, state, and national services to help meet basic needs, ease stress, and promote healing while also supporting tangible needs that arise due to treatments being outside of our local community. This year TCSS has been able to support 150 community members struggling with cancer and have provided over 1,000 encounters of supportive care over the year. TCSS is funded by grants, donations, and fundraising. Thanks to the generous support from our community, the team was able to raise close to $100,000 dollars from donations and grants this year. These donations support people impacted by cancer in the Taos area.  Find information at www.TaosCancerSupport.org
First Steps
The First Steps program provides free home visiting services to parents of children ages prenatal to five, including fathers, adoptive parents, and foster families in Taos, northern Rio Arriba, and western Colfax counties. Home visiting services provide parents with information, support, and access to resources in our community that promote early childhood development and a positive family foundation. In 2022 the team at First Steps provided support for approximately 190 families and provided over 1,700 home visits. There are currently seven home visitors on their team. Five of the seven home visitors are bilingual and they have been able to provide hybrid service throughout the year to meet the needs of as many families as possible. First Steps has also partnered with the Taos and Questa libraries to provide storytime for families each month. One of the goals for the upcoming year is to support dual language learning with families by providing additional books and resources. www.TaosFirstSteps.org
Taos Alive
The Taos Alive Coalition unites the community to plan and implement strategies that prevent and reduce substance use and its consequences among Taos County youth. In February of 2022 the National Association of County and City Health Officials (NACCHO) awarded Taos Alive a grant for $227,088 to increase opportunities for health social connections and to deepen education around substance misuse. This year, Taos Alive was able to improve access to positive activities for youth such as sports and art for 90 kids, provided one-on-one mentorship to over 30 students, provided drug preventative presentations to over 1,500 kids in schools throughout Taos County, and trained over 200 people in Taos County on Adverse Childhood Experience (ACEs). On January 20th at 5:30pm Taos Alive is hosting a free community training by Brian Serna on resilience. The team is also planning to offer a narcan and opioid overdose response training in the spring. www.TaosAlive.org
Rural OB Access & Maternal Services (ROAMS)
The ROAMS program is funded by a grant from the Health Resources and Services Administration. The goal of this program is to improve maternal health outcomes in northeastern New Mexico. Since June of 2021, ROAMS has helped 220 mothers enroll in home telehealth programs, and since April of 2021 has helped save mothers in rural areas from traveling over 13,000 miles or the equivalent of 247 hours of driving. The three ROAMS Family Navigators have helped 173 clients gain access to free services, benefits, lactation support, telehealth, and more over the last grant year. The ROAMS lactation counselor in Taos has been able to provide free consultations for 150 new parents during the last grant year. www.roamsnm.org
Holy Cross Medical Center is honored to offer all of these free programs and services to the community.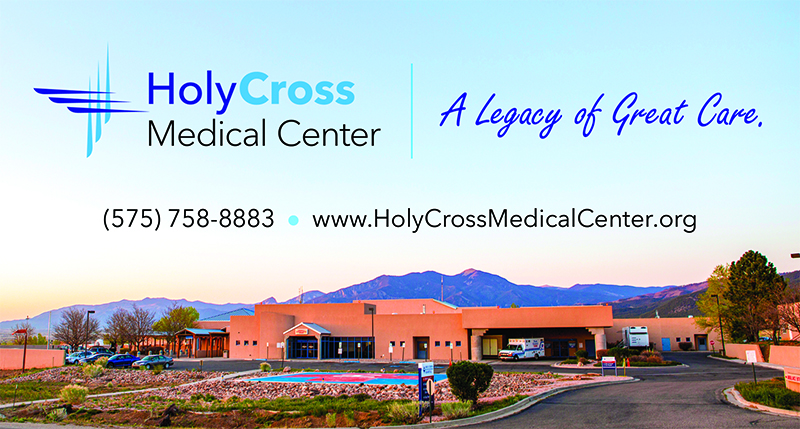 Grateful for Our Hospital
I would like to take a moment to recognize how grateful I am for the high quality staff we have at our local hospital. It is my privilege to have recently been appointed to the Board of Directors at Holy Cross Hospital, and my time as a medical professional in the community reinforces my belief that having great health care close to home is vital to the welfare of our community.
I want to recognize the incredible work of the staff at the hospital. Over the last few weeks I have been made aware of extraordinary acts of dedication and teamwork exhibited by our staff in response to recent incidents in the community. When you live in a rural community, the time it takes to get access to care can mean the difference between life and death. Travel the western United States and look at rural communities our size, you'll very rarely find a hospital with the quality and array of services that Holy Cross provides. While the entire organization stepped up to provide care, I wanted to highlight the work of the Emergency department, the surgical team, and two of our surgeons. It's comforting to know that we have an Emergency department here in Taos that is capable of stabilizing critical patients, and world-class surgeons providing care right here in our small community.
Dr. Michael Darnell is part of our Surgical Services team. After a recent incident, Dr. Darnell was called in to perform emergency life-saving surgery. I'm told he went above and beyond to provide great care. Dr. Darnell was unstoppable under the pressure and he provided surgical care from Noon until 2am. That's fourteen hours of emergency surgery under great pressure. I wish to thank him personally for being there in a time of need.
The second person I would like to recognize is a new member of our surgical team, Dr. Stephen Slikkers. Dr. Slikkers moved to Taos last month and he was quickly tested by getting an emergency call for surgery within his first days here. Even in the midst of moving with his family to Taos, he immediately jumped in as part of the team. His choice to bring his skills to Taos is a tremendous asset to our community.
Both of these examples are a testament not only to the skills of our surgeons, but the quality and teamwork of the entire Emergency department, the surgical team, and entire staff at Holy Cross. No individual on the team works in isolation and it requires the incredible skills and hard work of everyone involved to provide comprehensive care.
There is a lot of competition when it comes to hiring qualified medical professionals. Pay for medical specialists is incredibly competitive across the country and there is a growing physician, nurse, and technician shortage in America. This makes it even more impressive that these highly qualified professionals choose to provide care in Taos, and even better, make it their home.
I have provided emergency medical care in Taos for over 40 years. When I and my fellow EMT providers send or bring patients to Holy Cross, we are grateful to have such a reliable health care option in our community. We rely on our hospital. I encourage everyone in our community to support and cherish the health care available to us from Holy Cross Hospital.
– Carl Gilmore, Lower Cordillera, Taos
Carl has provided emergency health care services in Taos County for over 40 years and now serves on the board of directors for Holy Cross Medical Center. He submitted this letter as a My Turn to the Taos News the week of thanksgiving, 2022.
How Mill Levy Funds are Being Used to Improve Your Local Hospital
In November of 2020 Taos County voters rallied to renew mill levy support for Holy Cross Hospital. With resounding support, 72% of voters in the 2020 general election approved the renewal of a 1 mill tax to support local health care. Holy Cross Hospital is grateful for the support of the community and thought it would be important to share information on how mill levy tax support is being used to improve your local hospital.
The mill levy that was passed in 2020 goes directly to supporting health care in Taos County and is paid directly to Holy Cross Hospital. From the renewal two years ago through September of 2022, Holy Cross Hospital has received $1,645,130.32 in mill levy tax support. The hospital has prioritized the use of this funding for capital costs. While the hospital shares a list of the entire expenditures on its website, here are a few of the major improvements that have been made over the last two years.
One of the primary improvements that has been made is the addition of a brand new state of the art CT scanner. Medical equipment is highly specialized, and it should come as no surprise that it's expensive. The upgraded CT scanner cost close to half a million dollars and the additional construction and install costs are estimated at just under a quarter of a million dollars. The new state-of-the-art CT scanner creates 128 high resolution anatomical images per rotation. This means that when a CT scan is needed, doctors will have much more detailed information to diagnose and treat patients. The construction and install costs are high for this unit, because the hospital is not removing and replacing the existing machine. The Imaging Department chose to keep the existing equipment running and available during the upgrade as well as for future use. When this project is completed, the hospital will have two working CT scanners, which will provide greater options and support for patients.
Early this year, the speech and language pathology team worked closely with the Imaging Department to update video fluoroscopy equipment and purchase a specialized swallowing chair called a video fluoroscopy stretcher chair. This chair cost just under twelve thousand dollars and allows the speech and language team to offer specialized swallowing studies. These real-time x-rays allow your health care provider to see what happens in your mouth and throat when you swallow. This test is also called a Modified Barium Swallow (MBS) Study and is now available at Holy Cross Hospital.
The IT department was the next priority for funding. Half a million dollars was budgeted for technology related upgrades. These upgrades included general software purchases, computer server and storage improvements, network upgrades, a much needed phone system upgrade, and improvements to the electronic health record system.
The Plant Operations department spent close to three hundred thousand dollars on general infrastructure improvements. While it wasn't a large part of their expenses, the most notable of these improvements is easily seen in front of the hospital. The new chain link fence that was installed around the helipad provides additional safety and security when air transport is necessary. The primary upgrade that the Plant Operations department made was replacing the security camera system throughout the hospital. Other expenses included a dust containment system, a new transport vehicle, and machinery for campus improvements.
These examples are just a snapshot of the improvements that have been made by Holy Cross Hospital using mill levy funding from 2020. There were also some important improvements made during the first round of mill levy funding including unveiling a new state-of-the-art 3D mammography machine, energy saving infrastructure improvements, upgrading surgery equipment, many building repairs and upgrades, and some additional IT upgrades.  You can find an ongoing breakdown of expenditures on the Holy Cross Hospital website at https://holycrossmedicalcenter.org/mill-levy-updates/milly-levy-funded-repairs/
As of September 2020, the hospital has received a little more than a quarter of the mill levy funding that should be collected over the four year life span of the mill levy. The hospital's finance department has shared a five year improvement plan that includes roughly seventeen million dollars of necessary improvements. Members of the administration are meeting with county and town officials to open a transparent dialogue about how to improve health care in our region.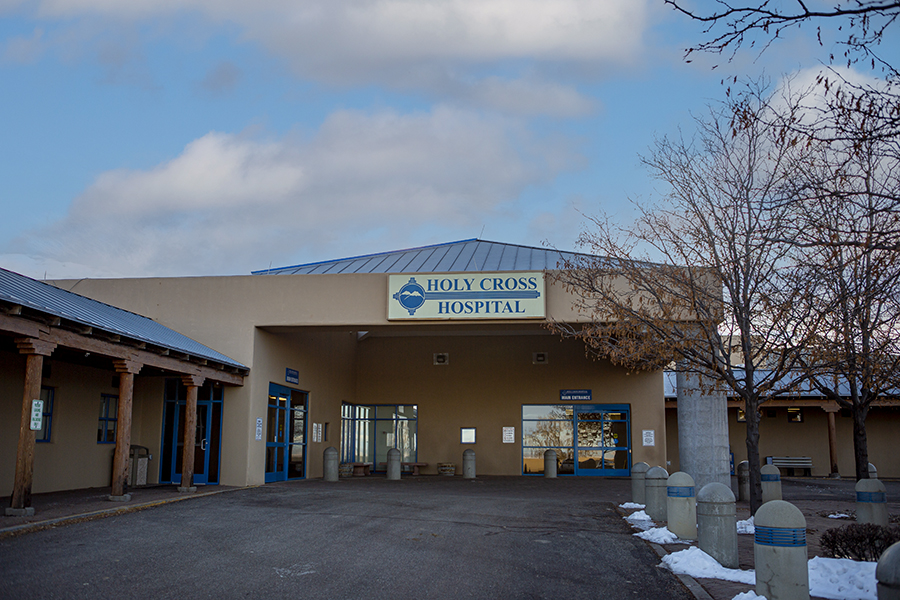 News