Home – Hidden
Holy Cross Highlight
Holy Cross Women's Health Institute Welcomes Dr. Casey Smith
Dr. Tim Moore, has spent his career as a dedicated obstetrician and gynecologist. He has touched countless lives and has left an indelible mark on the health of our community. Having made Taos his home in 2007, Dr. Moore began providing care with Holy Cross in 2008. With an impressive career spanning 41 years in the field of obstetrics and gynecology, Dr. Moore's retirement this year marks the end of an era in the medical community. Before gracing Taos with his expertise, he had delivered over 5,000 babies, showcasing his profound commitment to the miracle of life. His legacy as a compassionate healer and his tireless dedication to the well-being of mothers and their newborns will be cherished by the Taos community for years to come. Dr. Moore's retirement is a bittersweet moment, but as we bid him farewell, we can celebrate his remarkable contributions to our town. The Taos community is also welcoming a new OBGYN, Dr. Casey Smith, ensuring that the tradition of compassionate and skilled healthcare in women's and maternal health continues to thrive in Taos.
Recruiting high-quality, experienced physicians is becoming increasingly difficult for rural communities. Luckily, Taos is a natural draw for outdoor enthusiasts and has a healthcare infrastructure that attracts great talent. Holy Cross Women's Health Institute is proud to welcome Dr. Casey Smith, OB/GYN.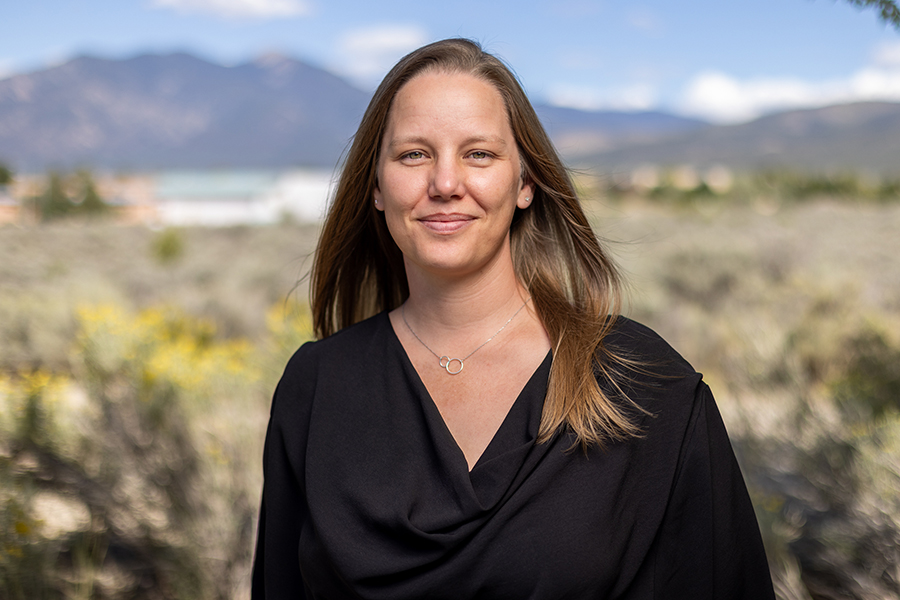 Born and raised in Albuquerque, Dr. Smith's journey to medicine was anything but conventional. After completing a bachelor's degree in biology at the University of New Mexico, she embarked on a career as a fish biologist, venturing into the remote corners of New Mexico, California, and even rural Alaska. Dr. Smith's time spent in remote areas gave her a firsthand look at the health disparities faced by rural communities.
"I saw the barriers to healthcare access that many rural communities faced during my time as a fish biologist," Dr. Smith explained. "It was a transformative experience that ignited a desire in me to make a difference in the lives of those who often go unheard."
With newfound purpose, Dr. Smith made the courageous decision to switch gears and pursue a career in medicine. Her goal was clear: to advocate for individuals and communities in need. Dr. Smith's journey brought her to medical school, where she discovered a true calling in Obstetrics and Gynecology.
"Obstetrics and Gynecology felt like a natural fit for me," Dr. Smith shared. "I realized that by positively impacting women's lives through healthcare, I could create a ripple effect that would benefit not only the women themselves, but also their families and communities."
Dr. Smith's passion for women's health is deeply rooted in her desire to provide holistic and continuous care. Dr. Smith is honored to bring her surgical experience to Taos and cherishes the relationships she gets to build with women. From adolescence to childbearing and through the golden years, Dr. Smith is committed to being a trusted healthcare partner throughout life's various stages.
"It's incredibly gratifying to offer surgical procedures that can restore patients' well-being and help them feel great again. Being a part of that transformation is one of the most rewarding aspects of my job."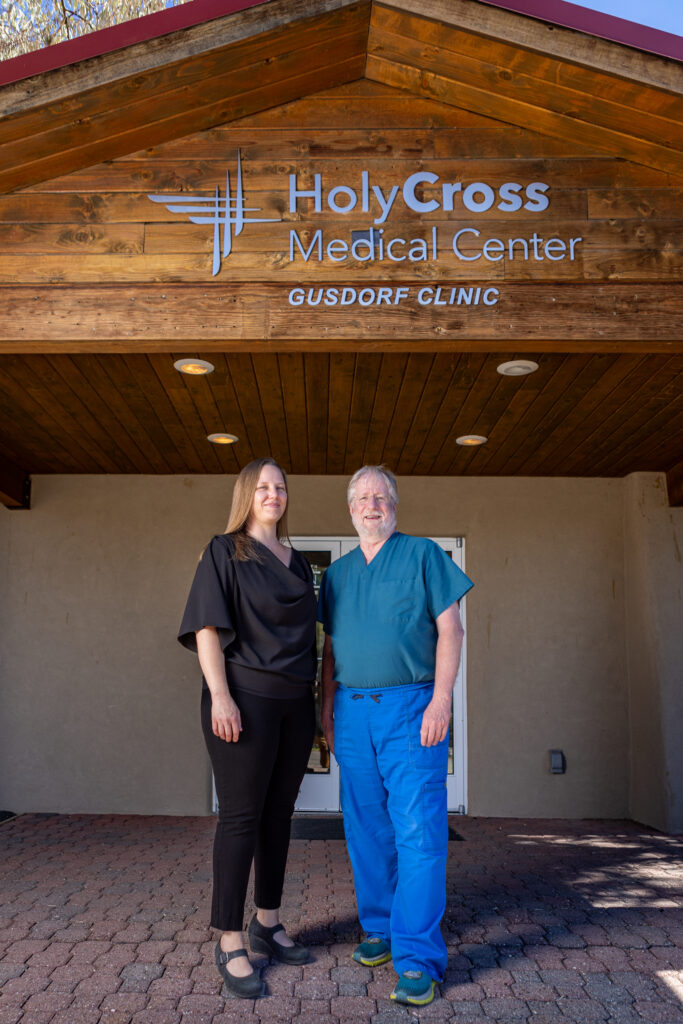 Choosing to settle in Taos was a natural decision for Dr. Smith. The town's proximity to the breathtaking mountains and the vibrant blend of cultures resonated with Dr. Smith and her family. They feel privileged to call Taos their new home and are excited to contribute to the well-being of the community.
Outside of her medical career, Dr. Smith is an avid outdoor enthusiast. Hiking, running, biking, cross-country skiing, rafting, and snowboarding are just a few of the activities that allow her to connect with the picturesque landscapes of Taos and the surrounding areas.
Dr. Smith's unique journey from fish biologist to physician is a testament to the power of following one's heart and the positive impact it can have on the lives of many. With a special blend of experiences, a passion for women's health, and her dedication to the well-being of the community Dr. Smith is excited to contribute to the healthcare of Northern New Mexico.
Please join Holy Cross in thanking Dr. Moore for the care he has provided, and welcoming Dr. Smith to the community.
Holy Cross Women's Health Institute is your complete resource for women's health care in Taos. From well-woman exams to family planning to osteoporosis care, WHI is here for all the women of Taos and northern New Mexico, at all stages of life and health. To learn more about Women's Health Institute, visit taoswomenshealth.com or call: (575) 737-3415
Honoring Our Long-Term Employees. 2021 & 2022 Service Awards
Since 1936, Holy Cross Hospital has been providing care to our community. From the original location on La Posta Road, to the current modern facility on Weimer Road, generations of Taoseños have come together to care for the community at Holy Cross.
Holy Cross Medical Center currently employs over 450 individuals. Every employee that works at Holy Cross is integral to providing high quality care locally and many of the employees at Holy Cross have been part of the healthcare family for decades. Outside of the work that they do for the hospital, clinics, and local programs, these individuals are also integral members of our community.
Holy Cross honors the employees that have been part of the healthcare family when they reach 5-year milestones. Some of the employees honored for the last two years  have been with the hospital for over 35 years, which shows extraordinary dedication to their craft, and to their community. Each employee is honored with dinner at a local restaurant, and a gift package thanking them for their service. To share in the celebration, here is a list of the service award recipients for 2021 and 2022. If you know someone from this list, take a minute to congratulate and thank them for the work they have done to support the health of our community.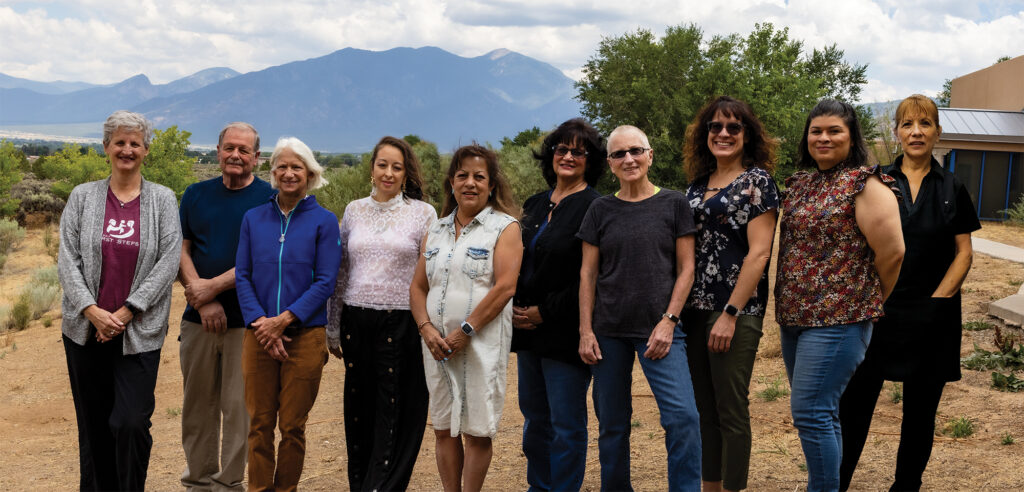 40 Years:
Peggy A Montoya
35 Years:
Corelia M Trujillo
25 Years:
Cynthia L Castro
Barbara A Coats
20 Years:
Christa D Castro
Deborah S Cripps
Hitana G Espinoza
Barbara Garcia
Laurie L Harter
Jaci Imberger
Audrey Jiron
Lisa M Pacheco
Bruce S Pattridge
Joel R Peters
Amy J Rappold
Marcia L Ready
Kathleen M Reddell
Jessica Santistevan
Jean Marie Saporito
15 Years:
Angelica Archuleta
Josephine M Brown
Tamara A Brown
Dale Cisneros
Lori Ann Cortez
Teresa A Dalke
Susan S Griego
Naomi Hannah
Douglas Kast
Renee Laughlin
Gina O'Hara
Victoria E Rael
Mary S Remeysen
Dawn E Richardson
Marcos J Romero
Peggy Romo
Jennifer R Silva
10 Years:
Kathleen A Alcon
Victoria Alire
Krystle Archuleta
Maureen R Archuleta
Sarah Bogar
John R Cisneros
Shauna Collins
Jessica Gonzales
Nicole M Groves
Jessica Hiemenz
Julie M Kane
Shonda M Lowe-Kirshbaum
Linda Lucero
Mary E Lucero
Meredith A Martinez
Cassandra Mecham
Cecilia Mondragon
Jason L Mutu
John Pringle
Phillip Qubain
Michael A Rael
Manuel Ramos
Charles Schultz
Angela R Torres
Camille D Trujillo
5 Years:
Jody Andrade
Eglantina Aragon
Marissa Bennett
Rebecca Ciletti
Darlene Cordova
Anthony Esquibel
Wilberta Esquibel
Patricia Free
Zoe M Gallegos
Anna M Heusner
Stephen P Lucero
Francisca A Martinez
Annamarie Martinez
Odalis Medrano
Chris Ann Montano
Christella Montoya
Lourdes M Morales
Dawn Nelson
Theresa Noedel
Carlos Ortiz
Fred Rael
Gawan Roberson
Ricki Leigh Salazar
Marlo Shipley
Rameet Singh
Ann Stewart
Gloria Thompson
Lesha Trujillo
Merril Tydings
Amberlee T Vigi
Carla Vigil
Alanna Vigil
Marja L Vigil
Sara Werling
Urbana L Wilson
Cindy Zepeda
As part of Holy Cross Medical Center's Team Taos initiative, they are actively recruiting as many local employees as possible. If you are interested in pursuing a fulling career in healthcare, please contact Vanessa Garcia, HR Recruiter: (575) 751-5731 | vanessag@taoshospital.org
Holy Cross Medical Center Expands Cardiology Services with Husband and Wife Heart Specialists
The heart holds immeasurable significance as a vital organ in the human body. Serving as the core of the circulatory system, its primary function is to pump oxygen-rich blood throughout the body, nourishing organs and tissues. This continuous circulation of blood ensures the delivery of essential nutrients and oxygen required for cellular metabolism, enabling all bodily functions to operate efficiently. With an organ that important, shouldn't getting access to specialized cardiology care be a priority for every community? It is for Taos, and your local hospital is excited to expand cardiology services for our community by welcoming a husband and wife cardiology team. Dr. Tiziano Scarabelli and his wife Carol, a nurse practitioner, will be joining the cardiology clinic in August.
Dr. Scarabelli was born and raised in Vercelli, a town in Piedmont, Italy. He discovered his passion for healthcare at the young age of six and pursued that passion to become a clinical cardiologist that focuses on the prevention and treatment of a variety of medical conditions affecting the cardiovascular system, such as hypertension, heart failure, arrhythmias, and cardiac ischemia. Tiziano graduated with a degree in Medicine from the University of Turin and completed a fellowship in cardiology at the University of Brescia. He then moved to England where he carried out research projects for several years. Subsequently, he moved to the US and continued his research activity at St John Hospital and Medical Center, a large teaching hospital in Detroit, Michigan. He also joined the faculty at Wayne State University, where he taught cardiovascular pathophysiology at the school of medicine for over 15 years. Tiziano completed a conventional postgraduate training in the US, including a 3-year residency in internal medicine at Henry Ford Hospital, and a 3-year cardiology fellowship at Mount Sinai Hospital, where he was mentored by eminent cardiologists such as Dr. Valentine Fuster and Dr. Jonathan Halperin. Dr. Scarabelli is board certified in Cardiovascular Medicine as well as Internal Medicine.
Dr. Scarabelli is the right doctor to serve the community. He is knowledgeable, experienced, personable and a servant. He and his wife Carol will bring consistent care to our patients. They will support our community practitioners and be able to provide timely feedback to each patient's primary care practitioner.

Susan Romansky, Chief Operating Officer at Holy Cross Medical Center
Cardiology can be a broad specialty covering diseases and abnormalities of the heart. Tiziano's subspecialty is cardio-oncology, whose primary goal is to prevent and treat cardiovascular complications of cancer, chemotherapy and/or radiation therapy. Patients diagnosed with cancer will often receive chemotherapy and/or radiation therapy, which can cause severe damage to the heart and blood vessels. Likewise, cancer treatments can worsen a preexisting cardiovascular condition, accelerating its progression and aggravating its prognosis. As early diagnosis and new cancer therapies have significantly extended the life expectancy of cancer patients, an increasing number of people are now surviving their malignancies long enough to face the risk of cardiovascular disease. Clinical vigilance and cardiac monitoring carried out before, during and after the administration of chemotherapy plays a central role in limiting the development of cardiovascular complications. Dr. Tiziano approaches patients by being genuine, direct, empathetic and accessible. "I try to give advice as though I myself was hearing it from a doctor – I try to let my patients know that what I preach is exactly what I would do for myself. I am always there for my patients when they need me. If they call me with a question, I will provide or find an answer."
Dr. Scarabelli comes to Taos with his wife Carol and daughter Caroline. Carol is a nurse practitioner with a PhD in Cardiovascular Sciences and will be an integral part of the Holy Cross Cardiology team. Tiziano and Carol met 23 years ago at the American Heart Association scientific sessions and were married only months after meeting. "We have been happily together for the past 23 years and she is still the one. My wife is also my closest collaborator." said Dr. Scarabelli. They have worked together for many years, both clinically and scientifically and are looking forward to caring for the Taos community.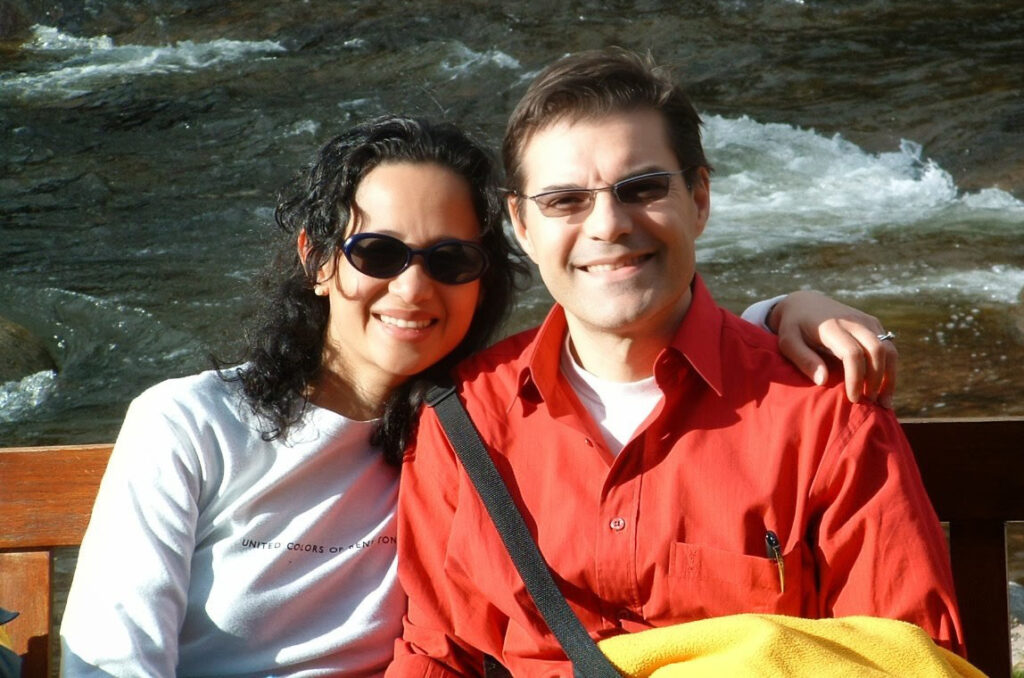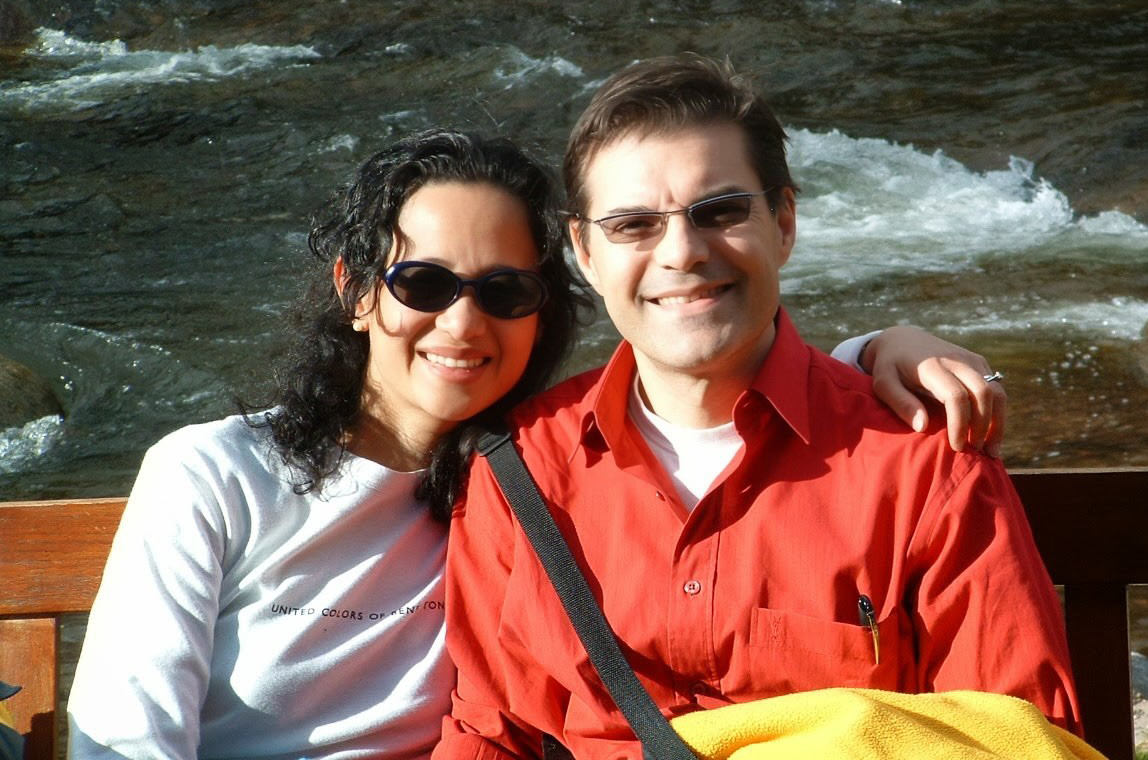 Outside of practicing medicine, Tiziano is an avid soccer player. He played semi-professional soccer throughout his entire course of academic studies. He played on the Pro Vercelli team, which won 7 national titles. The income he earned from playing soccer helped pay for his medical education. He said "I still play soccer and will continue to do so in Taos. I have heard about weekly games and I can't wait to start."
For much of rural America, getting an appointment with a cardiologist requires extended commutes and long wait times. By expanding local Cardiology services here in Taos, Holy Cross Medical Center is excited to offer high quality specialized healthcare services right here in Taos.
The highest fulfillment in my job is giving my best to those patients who cannot give you anything in return, but their gratitude. Service becomes an end in itself. Unconditional.

Dr. Tiziano Scarabelli
Dr. Tiziano and Carol will be joining Holy Cross Cardiology in August. Holy Cross Cardiology is located at 330 Paseo del Pueblo Sur, Suite H in Plaza de Colores.
Help Improve Healthcare Services in Taos County
Holy Cross Hospital is working with a 3rd party to conduct a survey to help better understand what the community wants from local healthcare providers. Please take 5 minutes to fill out this survey to help us understand what you and your family needs and expects from local healthcare providers.
The survey is anonymous, but if you would like to provide more feedback, you'll have the opportunity to include your contact information so that you can take part in ongoing focus groups.
Monthly Video Update
In an effort to help our community understand the changes happening in health care and at the hospital, we will be posting regular updates from the administration at Holy Cross Medical Center to help share information with the public.
News