Dan Guttmann,
MD
Orthopaedics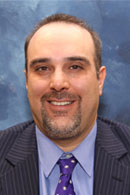 Medical Education
Temple University
Residency
Orthopaedic Surgery – Albert Einstein Medical Center, Philadelphia
Fellowship
Adult Reconstructive Surgery
(Hip, Knee and Shoulder Joint Replacements)
Joint Replacement Institute, Los Angeles Orthopaedic Hospital
Fellowship
Shoulder and Elbow – New York University's Hospital for Joint Disease
Clincal Instructor
Department of Orthopaedic Surgery at the University of New Mexico
Director
Research, Taos Orthopaedic Institute
Associate Director
Orthopaedic Sports Medicine and Reconstruction Fellowship at the Taos Orthopaedic Institute;Taos Orthopaedic Institute's Research Foundation
Dr. Guttmann is Director of the Shoulder and Elbow Surgery Service at the Taos Orthopaedic Institute. He is the Co-Director of the Sports Medicine Fellowship and Training Program. He is a Clinical Instructor in the Department of Orthpaedic Surgery at the University of New Mexico and Team Physician for New Mexico Highlands University Department of Athletics and Taos High School Department of Athletics. He is a physician for the United States Ski and Snowboard Team.
Dr. Guttmann has been a member of the Holy Cross Hospital staff in Taos since August of 2000