Gloria Garcia Salazar
Data Coordinator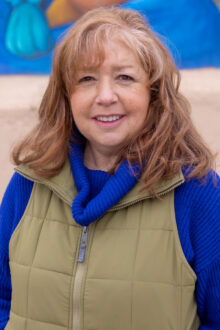 Gloria – a Taos native, was born and raised in the community of Arroyo Seco.  Gloria received a Bachelor of Science with emphasis in Computer Science and Math.  Upon graduation, she moved to Indianapolis, Indiana where she was employed by the Naval Avionics Center as a software developer. Her first project was assisting in the software development of the Tiltrotor Osprey aircraft. Later she relocated to Bay St. Louis, Mississippi where she was employed by the Naval Oceanographic Office (Stennis Space Center) as a computer programmer/oceanographer.
In 1992, Gloria returned back to New Mexico, getting married and continuing her software development journey with NM Energy & Minerals. Lastly with 25 years of service, she retired from the NM Department of Transportation (NMDOT) in Santa Fe. Duties consisted of software development and acquiring and reporting state and federal funds for NMDOT.
For her love of Taos, Gloria and her husband (Silas) raised their son (Estevan) on their commuting adventures to work in Santa Fe.
Gloria enjoys puzzles, and "yes" data.  Gloria comes from a long line of farmers where her family still harvests many fruits from their orchard that their grandparents planted in the early 1930s. Gloria finds peace in the outdoors.