Morgan Verkuilen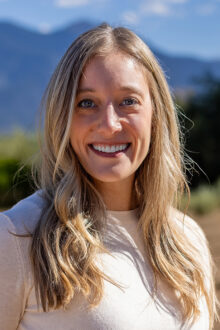 Morgan Verkuilen is a Pediatric Nurse Practitioner (PPCNP-BC) born and raised in a small town in central Wisconsin. She received her Bachelor of Science in Nursing at the University of Wisconsin-Milwaukee and worked at the Children's Hospital of Wisconsin before moving west to Colorado. She later pursued a Master of Science in Nursing degree specializing in pediatric primary care at the University of Colorado Denver-Anschutz. During this time, she had the opportunity to train at Children's Hospital of Colorado.
Morgan has been a part of the TCCY team and Taos community for over a year. She has enjoyed getting to know our patients and families from both the nursing and provider roles, gaining a unique perspective within the clinic setting. From infants to teenagers, she enjoys the variety within primary care and aims to provide a welcoming, comfortable, and enjoyable experience for children and families. Her goal is to help children grow and thrive as their healthiest selves and for parents to feel supported, educated, and empowered through this exciting period of development.
Outside of patient care, Morgan enjoys cooking and spending time outdoors hiking, camping, golfing, and skiing. She has two dogs, Breck and Rio, who often tag along on mountain adventures. Morgan is most excited to continue sharing her love for pediatric medicine here at TCCY and caring for the wonderful families of the community.