Edith Perez-Guzman,
CHW
Bilingual Home Visitor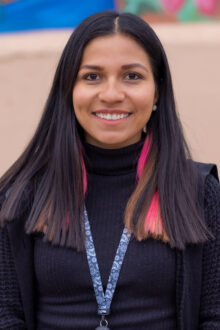 Edith was born in Chiapas, Mexico and moved to the states in 2007. She has lived in Deming, Santa Fe, Taos, Arizona and Colorado. She returned to Taos because of her love for the area and community. Edith is fluent in English and Spanish and joined the First Steps team in 2022. She is certified as a Community Health Worker and is dedicated to serving her community. She is also trained as a Mental Health First Responder. Edith believes "we all learn every day". She enjoys supporting families and their learning process as parents.
Edith is married and has three daughters. She loves spending time with her girls, they like to go camping as a family and rainy/snowy days are a favorite for watching movies and eating yummy snacks.