Holy Cross Medical Center would like to recognize ICU nurse, Lucky Andrade, for winning first place at the Recycle Santa Fe Art Fashion Show in November. Lucky's avant-garde wedding dress titled "Alive and Breathing" is made from 100% post-consumer medical waste. She used deconstructed oxygen tubing to create the 'fabric', embellished it with medicine vial caps, syringe tops, suction tubing, and transformed containers of sanitizing wipes into flowers. No wedding dress would be complete without a bouquet and headpiece, so Lucky rounded out the dress with an oxygen mask adorned with flowers and included a plastic flower bouquet.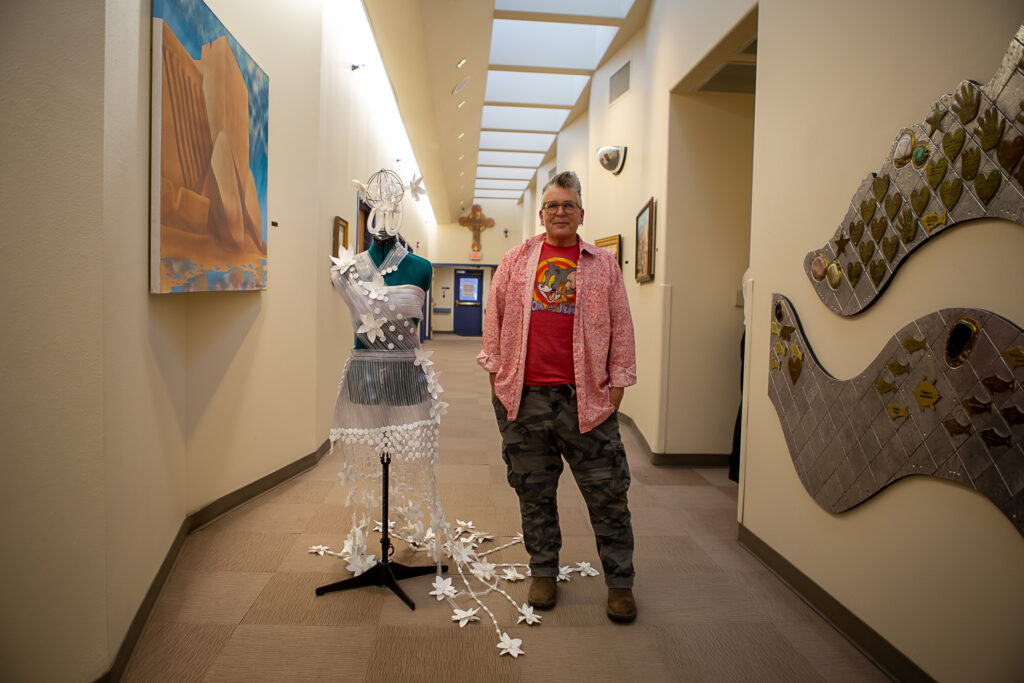 Lucky describes the piece as "The perfect outfit for your post COVID commitment ceremony to yourself".
It took Lucky over a year to repurpose the materials and fabricate the dress. She was not alone in the process. The piece was developed with Kat Belenkaya who modeled the finished dress. Lucky worked in the ICU through the pandemic and has been with Holy Cross Hospital for five years. We appreciate not only her commitment to providing life-saving care, but also her creativity, ingenuity, and extremely patient and impressive work on this project.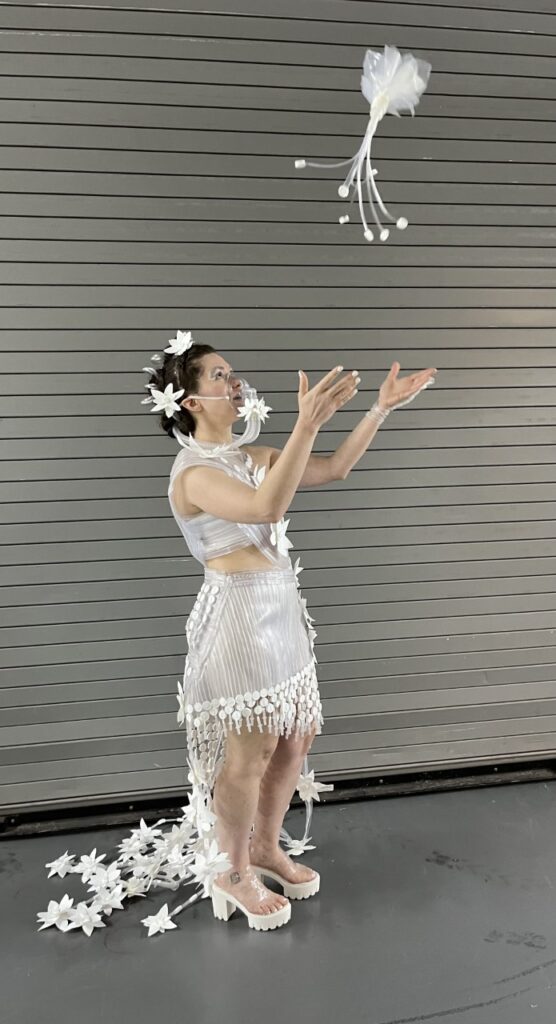 The dress is proudly on display in the waiting room of the Infusion Clinic at Holy Cross Hospital.
Artist Statement:
Alive and Breathing
An avant-garde wedding dress for the person ready to commit to themselves in a life long practice of compassion and joy. Made from 100% post-consumer medical waste including deconstructed oxygen tubing turned into fabric and embellished with medicine vial caps, syringe tops, suction tubing, along with containers of sanitizing wipes that are transformed into flowers
The perfect outfit for your post COVID commitment ceremony to yourself
Designed and Fabricated by Lucky Andrade
Modeled by Kat Belenkaya