Holy Cross Women's Health Institute (WHI) is pleased to welcome Family Physician with Obstetrics (FPOB), Ellen Ouellette, MD. Dr. Ouellette joins WHI's team of OBGYNs that include Tim Moore, MD; Rameet Singh, MD; and Carol Kiesling, MD. As an FPOB, Dr. Ouellette brings family medicine services to the broad range of care being offered at WHI, as well as pediatric services at Taos Clinic for Children and Youth.
In addition to providing birthing services alongside WHI's team of OBGYNs, Dr. Ouellette can be the primary care provider for a woman well before pregnancy and the entire family. As an FPOB she can provide care in the delivery room and she can continue to provide care for both mother and child after birth. Families in Taos can look forward to the continuity of care that Dr. Ouellette can provide.
Dr. Ouellette comes to Taos from Spokane, and rural northeastern Washington where she completed a three year rural Family Medicine Residency followed by a year long Family Medicine Obstetrics Fellowship. Prior to her residency and fellowship, Dr. Ouellette graduated from the University of Arizona College of Medicine Rural Health Professions Program with her doctorate of medicine as well as a masters degree in public health.
When asked why she pursued a career in Medicine, Dr. Ouellette responded "Like many physicians, it's something that I knew I wanted to do from a young age. I like the connection between medicine and social health and that directed me to work with families. Being there for families during a really important time in their life is something that I find very gratifying."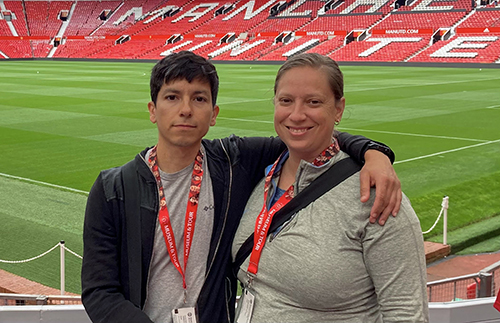 After spending time in the Pacific Northwest, Ellen and her husband Alex are excited to have the opportunity to work and live in the high desert. Ellen was raised in Arizona and Alex is originally from Chihuahua, Mexico, but moved to Kansas City, MO with his family when he was a child. He attended Fort Lewis College in Durango, Colorado and Northern Arizona University in Flagstaff to become a dietician and his time at both schools introduced him to the Four Corners area. He really loved the climate in Northern New Mexico when he visited and was excited when the opportunity to move to Taos came up. Ellen and Alex moved to Taos with their two large rescue dogs, Bonnie and Avery. They are both excited to join the Taos community and have access to all that Taos has to offer. 
"You really get to know people in small towns and it's really special to get to provide care and be part of people's lives in that way. What is great about Taos is that you have a small community, but you have a lot of great restaurants, a strong culture, access to the outdoors, and an art scene that you don't get in many small towns."
While family medicine is a broad medical field, Dr. Ouellette specializes in women's primary care, obstetrics, behavioral health, has experience treating Hepatitis-C, and is proficient in medical and conversational spanish. When asked about a professional highlight, Dr. Ouellette said "In the Northwest, not many practitioners spoke Spanish. I had a Spanish speaking patient that had a really early preterm delivery, but my ability to converse with her in her own language helped me connect with the patient and provide comfort and care during a scary experience." During her final year of medical school, Ellen spent a six week rotation working in Ecuador so that she could get a full immersion experience in Spanish. Her goal has always been to bring her wide range of skills to a rural community.
Dr. Ellen Ouellette is excited to join the team at Holy Cross Medical Center. She will be splitting her time between the Womens' Health Institute and Taos Clinic for Children and Youth. She is excited to meet you and your family.
You can learn more by calling Women's Health Institute at: (575) 737-3415.