Most people have been affected by cancer in some way. Whether you are battling cancer, a cancer survivor, a family member, a friend, or a caretaker you have seen the impact the disease can have on everyone involved. While our healthcare system has evolved to provide the best care possible, there are many things that often get overlooked during treatment. Because we live in a rural area, patients often have to drive long distances to receive advanced care. Travel often results in the need for a place to stay close to the health care provider and a traveling companion to help get you there and back safely. Beyond the stress of getting to and from appointments, it can be difficult to eat well, general well-being can be overlooked, and expenses can stack up. These stresses don't only impact the patient, they often impact the caretaker and the entire family.
When it comes to filling the gap between cancer treatment and personal well-being, Taos Cancer Support Services is here to provide non-medical support to people in Taos & Colfax counties. Taos Cancer Support Services is a program of Holy Cross Medical Center that offers support for area residents from early diagnosis up to a year after their last treatment. The program offers free assistance with lodging and gas for medical appointments, cancer resources, services navigation, support groups, food gift cards, yoga & fitness activities, acupuncture, and massage. This free service exists because of grants and donations.
Over the last five years, Cancer Support Services has been able to help patients book over 4,500 medical appointments and has partnered with over 20 trusted business partners in Taos, Santa Fe, Albuquerque, and Los Alamos to provide services for stress and pain management, as well as trained counselors to work through the deeper issues associated with loss & grief. Cancer support groups and peer-to-peer emotional support is available for those with cancer as well as their caregivers, providing a place to share with others who really understand.
Every June for over a decade, the community has rallied to raise awareness and financially support Cancer Support Services by taking part in For the Health of It! For the Health of It! is a 5k walk at Kit Carson Park and all of the proceeds raised during the event go directly to Cancer Support Services. Since 2020 the event has taken place 'virtually', but this year it will take place at Kit Carson Park on June 25th from 9am to noon. Everyone can take part in For the Health of It!, including your four-legged friends. Registrants receive an event T-Shirt and your furry friend will get a bandana. If you can't take part in the event, you can support this great community program by donating online. The event is sponsored by many local businesses, which will be set up offering free giveaways and information as part of a health fair.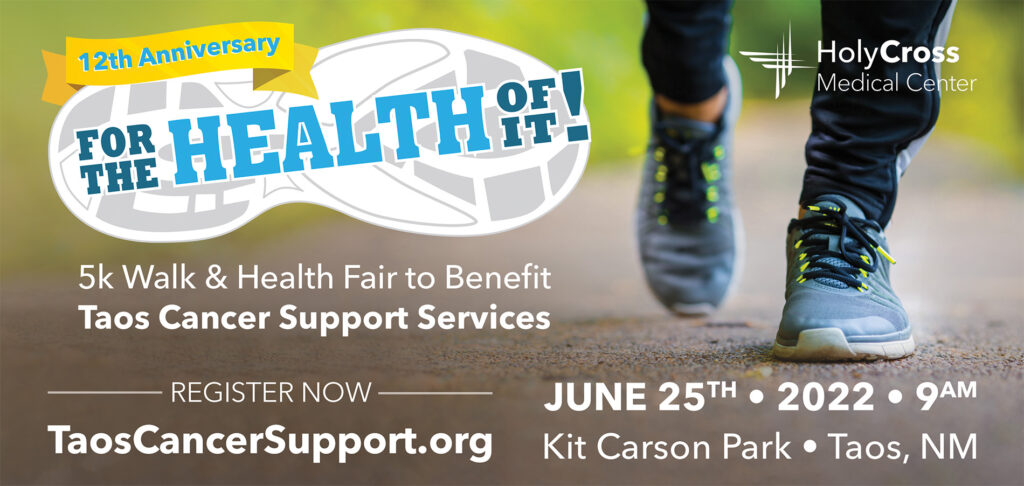 Join your community this Saturday and rally your support for locals struggling with cancer. For the Health of It! is taking place at Kit Carson Park on June 25th, 2022 from 9am to 12pm. You can register online at TaosCancerSupport.org, call (575) 751-8927, register in person at the Community Health Services office (413 Sipapu Street., Taos) Today or Friday June 24th, 2022 between 10am-4pm, or just show up at the event!
Learn More At: TaosCancerSupport.org