Understanding the unique differences between Medicare, Medicaid, self-pay, private insurance, and healthcare exchange options can be overwhelming. Many people don't have the time to study and learn about the intricacies of the complicated federal and state benefits system and it's nice to know that there is a friendly local option that can help. Benefit Navigation is a program of Holy Cross Medical Center that provides free assistance with enrollment and applications for Medicaid, SNAP, LIHEAP, Health Insurance, Medicare, and supplemental insurance. The benefit navigation team provides the advocacy and education necessary to enroll clients in the health insurance programs that meet their individual needs and budgets.
Holy Cross Benefit Navigation has two specialists to help you understand your federal and state benefit options. Theresa Noedel, Benefit Navigation Coordinator, is a certified PE Determiner for New Mexico Medicaid, and an Enrollment Counselor for BeWellnm. Anna Romero, Benefit Navigator, is also a certified PE Determiner for New Mexico Medicaid, and this year she is working to become the Bilingual BeWellnm Enrollment Counselor.
Theresa assists people applying for Medicare, provides education and enrollment support for supplemental Insurance and Part C Replacement plans, and helps people apply for Social Security and Disability. In 2021 Theresa Noedel received an Excellence award from the NMPCA in recognition of her outstanding community dedication and service. She is one of the top-ten enrollment counselors in New Mexico.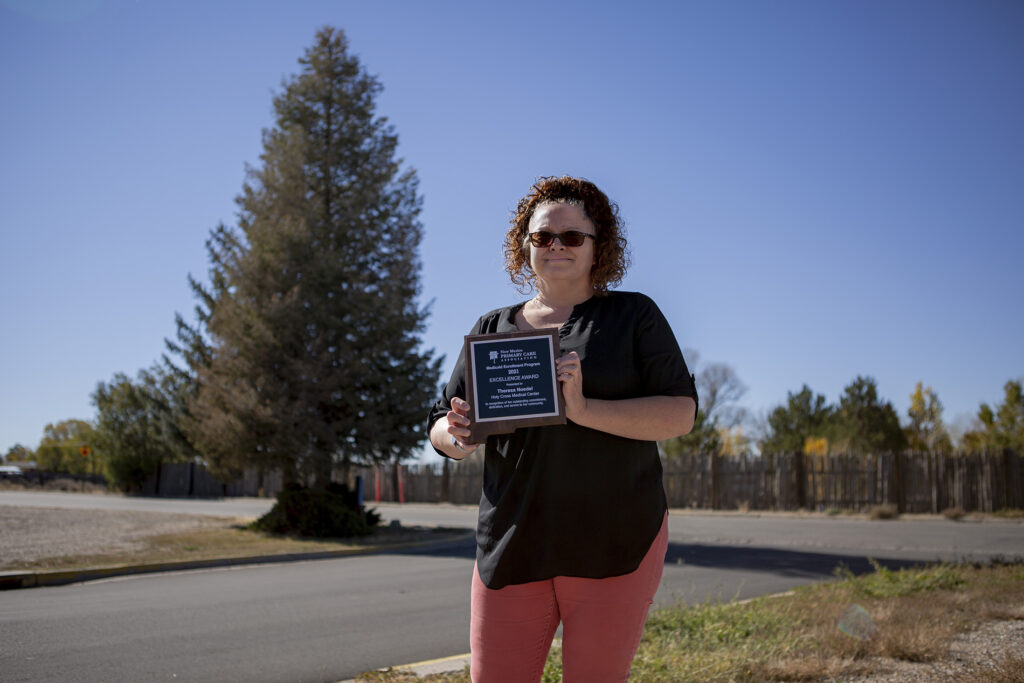 Benefit Navigation is partially funded by a grant from the NMPCA, an exchange grant from NM Hispano, and is managed by the Community Health Services Department of Holy Cross Hospital. In the last 13-years, the program has helped community members submit over 5,590 Medicaid applications with 567 over the last year alone. Many New Mexico residents struggled with their Healthcare.gov exchange plan getting transferred to BeWellnm and over the last year, the program assisted over 200 community members to understand their options, and helped 180 people sign up for healthcare exchange plans. All of these services are offered completely free.
If you are struggling to navigate your healthcare benefits or would like to know more about what benefits you might qualify for, the Benefit Navigation Program of Holy Cross Hospital provides free year-round enrollment and counseling services. The benefit navigators can provide assistance in both English and Spanish. For more information, contact 575-751-8939 or visit https://holycrossmedicalcenter.org/program/benefit-navigation/