Most people think that a "speech therapist" helps people who have a lisp or need to re-learn how to talk after a stroke. This is true, but you might be surprised to find out that Speech-Language Pathologists (SLPs) do much more than this. Did you know that Medical Speech-Language Pathologists are experts in swallowing disorders?
Swallowing is a complex process. Under normal circumstances, we swallow about 500 to 2000 times daily. Swallowing requires the concerted actions of about 50 pairs of muscles and 5 main cranial nerves (nerves in the skull).
People with "dysphagia" have difficulty swallowing and may even experience pain while swallowing. Some people may be completely unable to swallow or may have trouble safely swallowing liquids, foods, or saliva. When that happens, eating becomes challenging or even impossible. Often, dysphagia makes it difficult to take in enough calories and fluids to nourish the body and can lead to additional serious medical problems. Dysphagia can occur at any age, but it's more common in older adults. The causes of swallowing problems vary, and treatment depends on the cause.
Patients who experience dysphagia may benefit from a form of treatment called swallowing therapy. During swallowing therapy sessions, the speech pathologist may use different methods involving the lips, jaw, and tongue to strengthen the muscles of the mouth. Special exercises for engaging the swallowing muscles and stimulating the nerves that trigger the swallow reflex may be used. Food may be used with the exercises for different textures, temperatures, and swallowing abilities. Patients may also be taught simple ways to place food in the mouth or position the body and head to help swallowing occur successfully. Sometimes, therapy may also include a change in diet.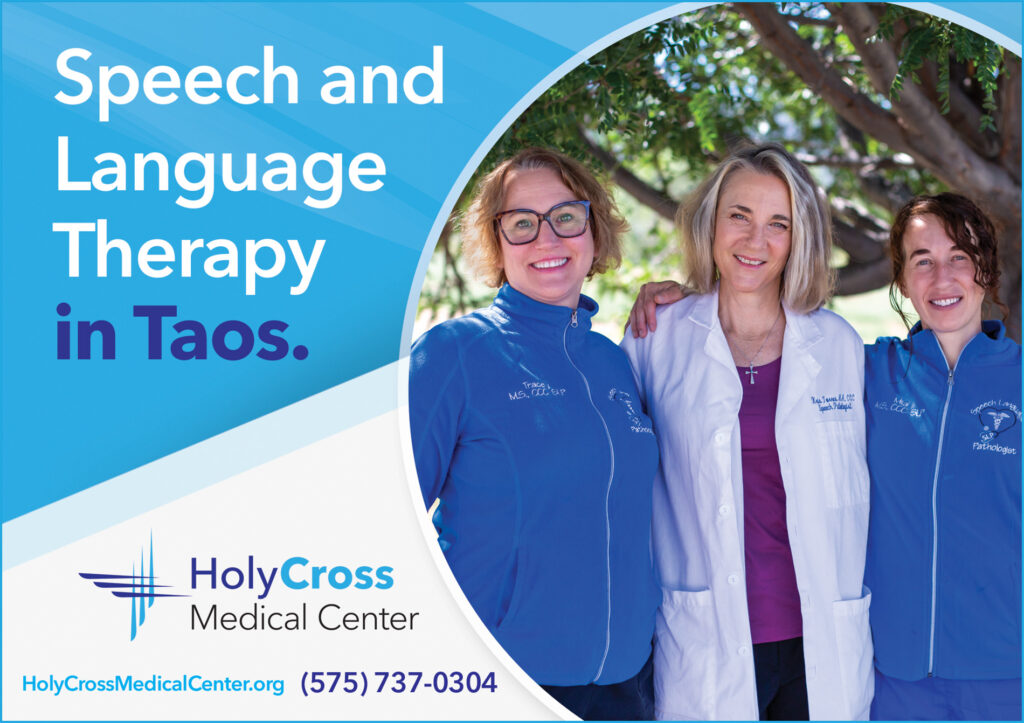 At Holy Cross Medical Center, we are fortunate to have a team of Medical SLPs who diagnose and treat dysphagia. Kristen Torres started the speech and swallowing program over 30 years ago. Tracey Poffenroth Prato is the primary SLP and continues to grow the program to meet the needs and demands of our community. Mia McMullen is the newest member of the team. Early this year, the SLP team worked closely with radiology to update video fluoroscopy equipment and purchase a specialized swallowing chair. Medical SLPs collaborate with Radiologists and Radiology Technicians to perform Videofluoroscopic Swallowing Studies (VFSS). This test is also called a Modified Barium Swallow (MBS) Study and is now available right here in Taos.
These specialized swallowing studies are real-time x-rays that allow Medical SLPs to see what happens in your mouth and throat when you swallow. It allows the therapist to see if food or liquids go into your airway instead of your stomach, which muscles and parts of your mouth and throat may not work well, what kinds of foods are safest for you to swallow, and if certain positions or strategies help you swallow better. It helps the therapist create a treatment plan and therapy to help improve swallowing.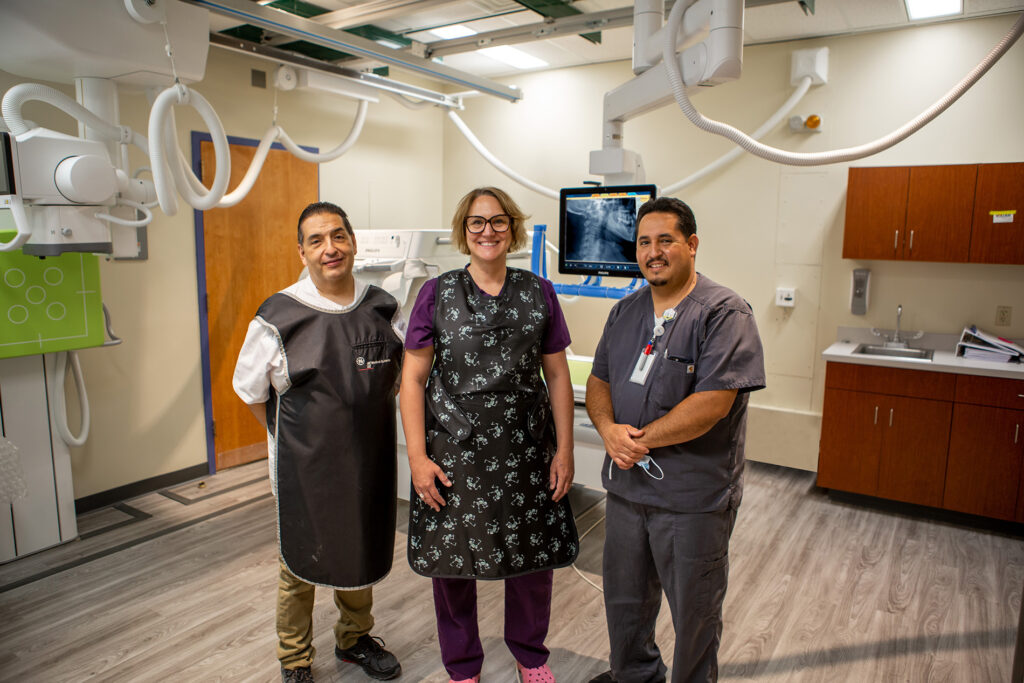 With over 20 years of experience as a Medical SLP and dysphagia, Tracey is only 1 of 8 SLPs in the state who is certified in the McNeill Dysphagia Treatment Program (MDTP), an innovative and evidence-based program for swallowing rehabilitation. Tracey and the Medical SLP team use their vast experience, expertise, and compassion with their patients, which means, you don't need to leave Taos to get great care.
For more information contact Holy Cross Physical Therapy & Rehabilitation by calling (575) 737-0304 or visit www.taosphysicalhealth.com
Written by Tracey Poffenroth Prato M.S., CCC-SLP