Since 1936, Holy Cross Hospital has been providing care to our community. From the original location on La Posta Road, to the current modern facility on Weimer Road, generations of Taoseños have come together to care for the community at Holy Cross.
Holy Cross Medical Center currently employs over 450 individuals. Every employee that works at Holy Cross is integral to providing high quality care locally and many of the employees at Holy Cross have been part of the healthcare family for decades. Outside of the work that they do for the hospital, clinics, and local programs, these individuals are also integral members of our community.
Holy Cross honors the employees that have been part of the healthcare family when they reach 5-year milestones. Some of the employees honored for the last two years  have been with the hospital for over 35 years, which shows extraordinary dedication to their craft, and to their community. Each employee is honored with dinner at a local restaurant, and a gift package thanking them for their service. To share in the celebration, here is a list of the service award recipients for 2021 and 2022. If you know someone from this list, take a minute to congratulate and thank them for the work they have done to support the health of our community.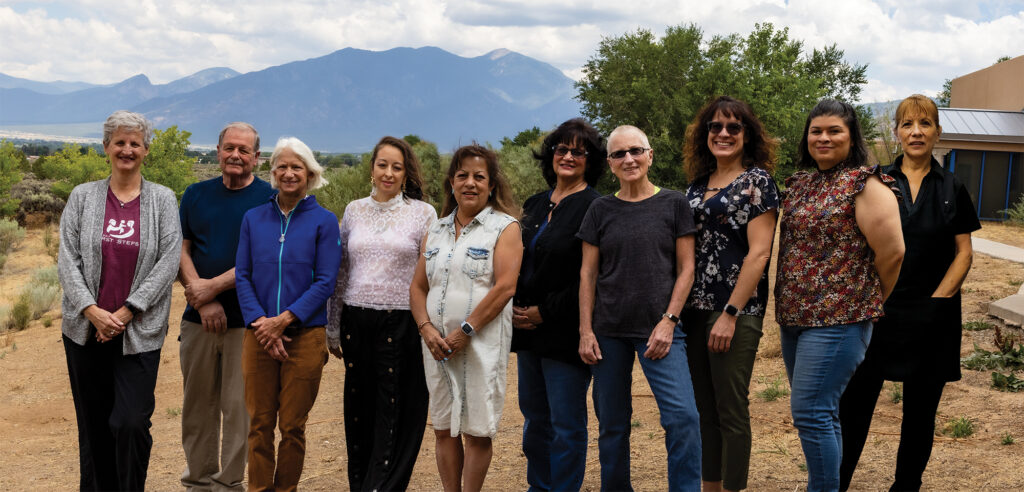 40 Years:
Peggy A Montoya
35 Years:
Corelia M Trujillo
25 Years:
Cynthia L Castro
Barbara A Coats
20 Years:
Christa D Castro
Deborah S Cripps
Hitana G Espinoza
Barbara Garcia
Laurie L Harter
Jaci Imberger
Audrey Jiron
Lisa M Pacheco
Bruce S Pattridge
Joel R Peters
Amy J Rappold
Marcia L Ready
Kathleen M Reddell
Jessica Santistevan
Jean Marie Saporito
15 Years:
Angelica Archuleta
Josephine M Brown
Tamara A Brown
Dale Cisneros
Lori Ann Cortez
Teresa A Dalke
Susan S Griego
Naomi Hannah
Douglas Kast
Renee Laughlin
Gina O'Hara
Victoria E Rael
Mary S Remeysen
Dawn E Richardson
Marcos J Romero
Peggy Romo
Jennifer R Silva
10 Years:
Kathleen A Alcon
Victoria Alire
Krystle Archuleta
Maureen R Archuleta
Sarah Bogar
John R Cisneros
Shauna Collins
Jessica Gonzales
Nicole M Groves
Jessica Hiemenz
Julie M Kane
Shonda M Lowe-Kirshbaum
Linda Lucero
Mary E Lucero
Meredith A Martinez
Cassandra Mecham
Cecilia Mondragon
Jason L Mutu
John Pringle
Phillip Qubain
Michael A Rael
Manuel Ramos
Charles Schultz
Angela R Torres
Camille D Trujillo
5 Years:
Jody Andrade
Eglantina Aragon
Marissa Bennett
Rebecca Ciletti
Darlene Cordova
Anthony Esquibel
Wilberta Esquibel
Patricia Free
Zoe M Gallegos
Anna M Heusner
Stephen P Lucero
Francisca A Martinez
Annamarie Martinez
Odalis Medrano
Chris Ann Montano
Christella Montoya
Lourdes M Morales
Dawn Nelson
Theresa Noedel
Carlos Ortiz
Fred Rael
Gawan Roberson
Ricki Leigh Salazar
Marlo Shipley
Rameet Singh
Ann Stewart
Gloria Thompson
Lesha Trujillo
Merril Tydings
Amberlee T Vigi
Carla Vigil
Alanna Vigil
Marja L Vigil
Sara Werling
Urbana L Wilson
Cindy Zepeda
As part of Holy Cross Medical Center's Team Taos initiative, they are actively recruiting as many local employees as possible. If you are interested in pursuing a fulling career in healthcare, please contact Vanessa Garcia, HR Recruiter: (575) 751-5731 | vanessag@taoshospital.org