Life has been uniquely tough for everyone since March of 2020. The pandemic put a wrench in everyone's plans and turned life upside down for many. While there are countless frontline workers that showed up through the pandemic, individuals working in health care and the health care system have been uniquely impacted. While the vaccine has brought much comfort back to our lives, COVID-19 continues to present a challenge. Health care providers around the country continue to be overwhelmed and overworked. We want to take a minute to acknowledge and thank the employees of Holy Cross Medical Center for going above and beyond for the last year and a half.
Every Holy Cross employee has shown up to provide the best care possible during an extraordinarily challenging time. Holy Cross is staffed with an amazing team. The service and care that they provide is professional, compassionate, and prioritizes the patient. While many hospitals were laying off employees during the pandemic, Holy Cross Medical Center thought differently. Employees that may not have been considered critical during the pandemic were offered alternative work options, and there were not any pandemic related layoffs.

Like most hospitals across the country, our local facility is still under great pressure. Emergency rooms and the ICU are not only treating COVID-19 patients, but a continual influx of patients that require all kinds of care. Now that people are traveling and interacting more normally in the world, there is also an increase in common viruses, ailments, and injuries. Doctors and nurses are not just handling a new virus and its mutations, they are also handling a regular patient load. Hospitals across the nation are struggling with this issue and it means that health care workers are seeing more patients, working longer hours, and oftentimes do so while being understaffed. Health care workers are stepping up to the challenge around the country, and we are grateful.
Prior to COVID-19 there was a nationwide shortage of nurses that was already providing a unique challenge for hospitals and clinics. The nursing shortage creates complications with the increased need for care that we are currently seeing, and contributes to bed shortages across the state and the nation. If a hospital needs to transfer a patient, the staff works with other regional hospitals to find available space. Before the pandemic it might have only taken a few hours to get a patient accepted and transferred to another hospital, but the receiving hospitals have been so busy that transfers are sometimes denied, or placed on a waiting list that can be days long. This is not just an issue for New Mexico, transfer requests have extended to hospitals in Colorado, Oklahoma, and as far as Nebraska. Other hospitals are facing many of the same issues we are facing in Taos. Nurse and bed shortages are a national issue and it has been very challenging for staff, patients, and families across the country.
One of the best things you can do to help stabilize the health care system is to get vaccinated. According to research conducted by the CDC for adults 18 years and older, the COVID-19 associated hospitalization rate was about 12 times higher for unvaccinated persons. The CDC research also shows that the two dose mRNA vaccines reduce the risk of COVID-19 by 90% or more for people who are fully vaccinated. 
COVID-19 Vaccines are available for anyone that is five years or older. Third dose booster shots are available for everyone 6-months after their last vaccine dose. The Holy Cross Annex building is offering all three vaccine options, and third dose booster shots for adults 18 years or older.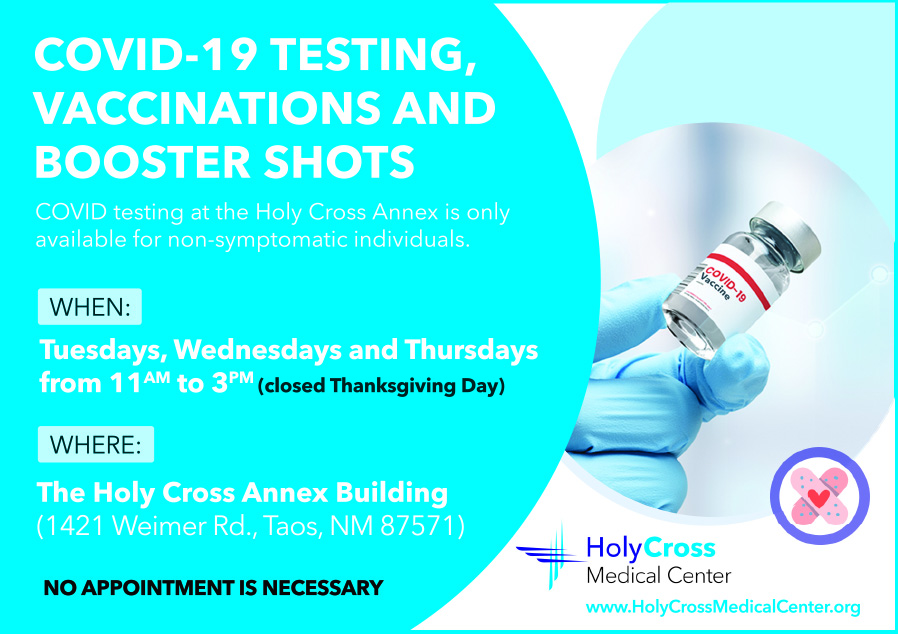 The hard work for emergency department doctors, hospitalists, and nurses of all types will continue to be challenging. We want to acknowledge that they have risen to the challenge, they have taken on more duties, worked longer hours, and exceeded safety requirements under extreme front-line conditions. For over a year and a half the Emergency Department has done an incredible job handling the stressful and seemingly impossible situation of providing great care during a pandemic. We are lucky to have such an incredible group caring for our community and we would like to thank them for going above and beyond without respite since early 2020. 
This holiday season we invite you to join us in recognizing and thanking the incredible individuals that work in local health care — from our community's first responders to those providing care in our local hospital and clinics — let's remember that there are many people working overtime through the holidays to help keep our community safe.
From the Holy Cross Medical Center family to yours, please have a healthy, safe, and fulfilling holiday season.