Being raised in a rural community has many benefits, but for some teens it can feel like there are a lack of real career opportunities. With graduation looming on their horizon and the pressure to plan for their next leap, many soon-to-be graduates feel the need to leave their hometown to further their education and pursue their careers. For those who want to stay local and make a difference, UNM-Taos offers excellent career building opportunities right here at home and Holy Cross Medical Center is actively trying to hire local healthcare workers.
In the U.S. there has been an ongoing shortage of nurses that was only worsened due to the COVID pandemic. Dawn Kittner has been working with the Nursing Program at UNM-Taos since 2009, and in mid-2021 became the director of the program. When asked about the nursing situation in New Mexico she said, "There is a nursing crisis in New Mexico, where we do not have enough nurses to care for our population. It's been going on for a long time, and it has been extended by the pandemic." Holy Cross Medical Center is currently trying to hire over 30 full-time nurses to fill open positions and to reduce the number of traveling nurses that work in the hospital.
While the goal of Holy Cross is to hire individuals from the local community whenever possible, oftentimes health care staff need to be recruited from outside the state due to a limited local applicant pool. Wouldn't it make sense to promote educational opportunities that would prepare locals for these positions? Luckily for Taos, the local branch of UNM offers an amazing educational opportunity for those seeking a career in health care.
Each fall, UNM-Taos accepts 16 applicants to the Nursing Program which offers both a four-semester associates degree, as well as the option to complete a dual-degree program and in five semesters receive a bachelors in Nursing Sciences. There are prerequisites involved and a student can get an associates degree in nursing in as little as four years and a bachelors in four and a half years. Since the program began, 100% of the students that completed the UNM-Taos Nursing Program have passed the NCLEX-RN exam and 100% of those students found employment as nurses after graduation. On top of having access to this great curriculum locally, UNM-Taos partners with Holy Cross Hospital so that students can get the necessary experience in a clinical setting.
"Going into nursing is life changing for so many of our students. It offers a stable job and good income for their family and allows for lifelong career opportunities from hospital care, informatics, education, and business. The world of nursing is limitless." said Dawn.
In August of 2023, there are 14 students that are likely to graduate and find jobs in our region. Many of the graduates of the UNM-Taos program are locals that choose to work for local health care providers. Holy Cross Medical Center currently employs 38 nurses that are UNM graduates.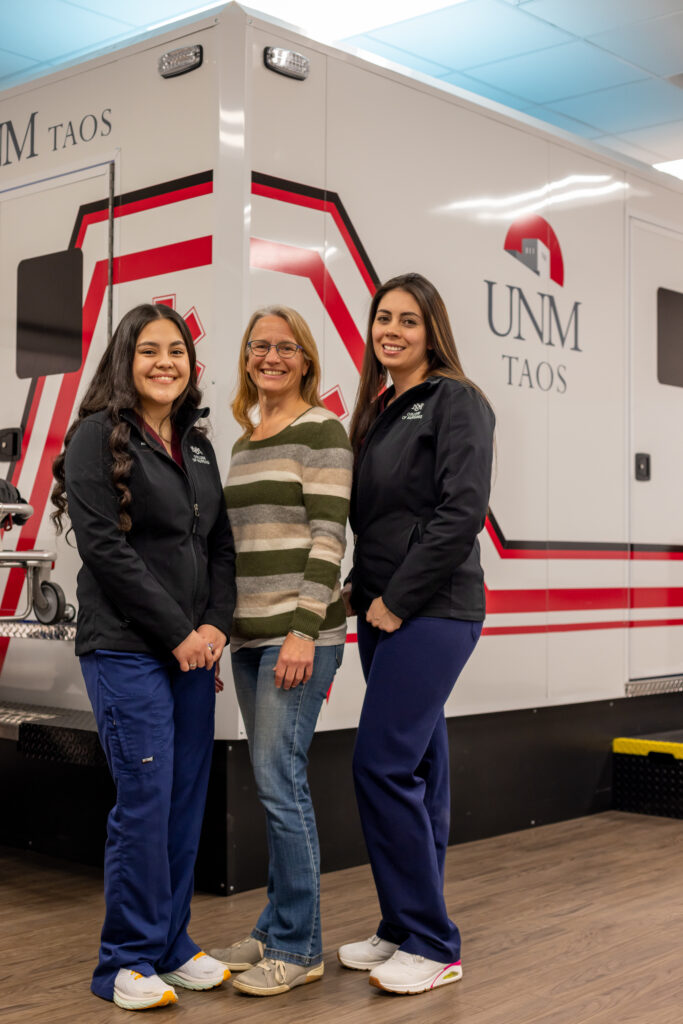 Jessica Gonzales was born and raised in Taos. She graduated from Taos High School in 2010 and began working at Holy Cross Medical Center as a Certified Nursing Assistant before transitioning to a medical assistant role at Holy Cross Hospital's Women's Health Institute & Holy Cross Surgical Specialties. Jessica then completed a Surgical Technologist program offered in-house at Holy Cross and became a Certified Surgical Technologist. Jessica's interest and love for the world of healthcare in her words "blossomed profoundly" and she went on to become a certified Surgical First Assist. In 2021 Jessica was accepted into the UNM-Taos Nursing program and is expected to graduate this August. When asked about working locally Jessica responded "I feel a deep connection to my community and I have an overwhelming desire to care for the people in my hometown. I feel very fortunate to have a nursing program available where I grew up. Working for Holy Cross and the support I have received while getting my degree has been great."
Ashley Martinez, also born and raised in Taos, graduated from Taos Academy in 2019 and for the last 4 years has been working with the Taos Clinic for Children and Youth, which is owned and operated by Holy Cross Medical Center. Ashley also joined the nursing program in 2021. When I asked Ashley how challenging the UNM-Taos program was she responded  "I have enjoyed the last two years and it has been a really great experience. All of the instructors at UNM-Taos are really great. They spend time working with us on the material and I always feel like we can go to them for whatever we need."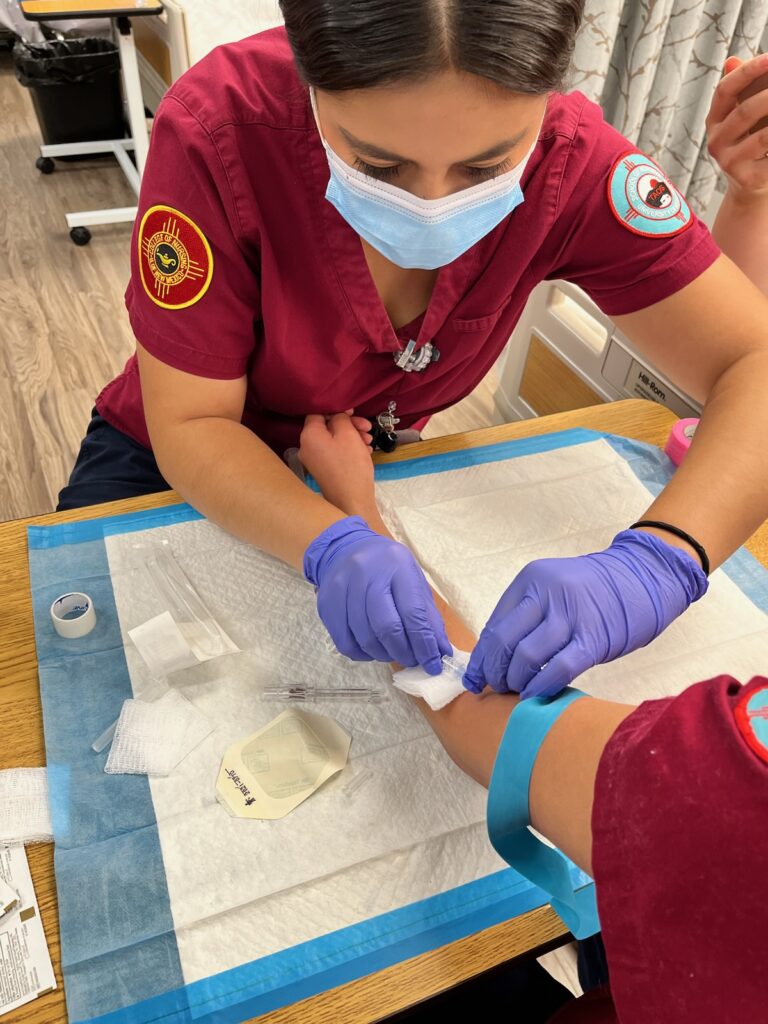 Ashley and Jessica are both shining examples of locals that were able to build rewarding careers and open professional doors without leaving Taos. Having a local hospital and a branch of UNM right here in Taos is providing excellent opportunities for locals to pursue medical careers that can help them care for locals, and also provides the education and skills to work anywhere in the world.
Holy Cross Hospital is eager to hire local health care providers. The partnership with UNM-Taos offers a unique opportunity, making it possible for locals to pursue rewarding careers as nurses right here at home. Find out about local job opportunities at Holy Cross Medical Center by visiting https://holycrossmedicalcenter.org/employment-opportunities
The deadline to apply for the Nursing Program through UNM-Taos is June 15th. The staff at UNM-Taos are happy to help you understand the opportunities, will help you navigate applications, understand your prerequisite needs, and be able to help students get a quality education at low cost. Learn more at taos.unm.edu.