For two years our world has been struggling with the COVID-19 pandemic. This new virus has made its way to every corner of the planet and as it travels, it mutates. COVID-19 is a burden to everyone, but health care workers around the world have been fighting on the front lines since day one, with little respite from the daily challenges brought on by the pandemic. This is not just a local issue, this is a nationwide health care crisis. Hospitals around the country are struggling to balance care for individuals with non-COVID-related conditions, as well as the increase of COVID-19 patient loads that the winter season has introduced. This new wave of cases is causing extreme stress on health care systems on a global scale.
Holy Cross Hospital has continually strived to go above and beyond in its efforts to handle the burden, but the current wave of the pandemic is stressing a system that was already under extreme pressure. Many hospitals in New Mexico have reached crisis standards of care, but our local hospital has been able to avoid this designation until now. Supply shortages, high patient volumes, and staffing challenges have finally pressured Holy Cross Hospital to activate crisis standards of care.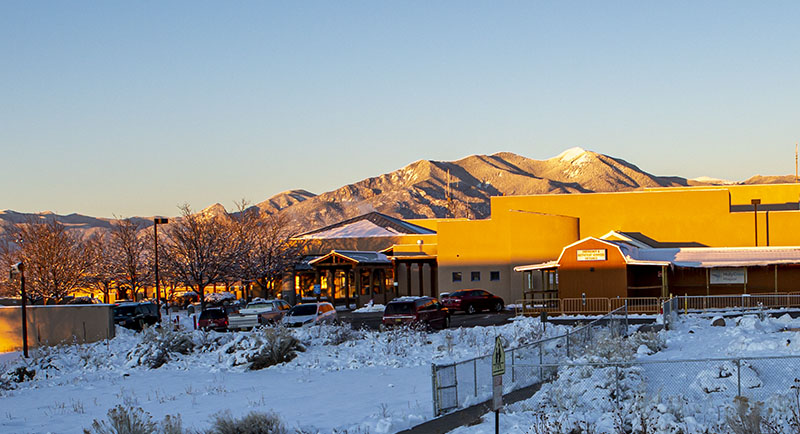 When a hospital reaches crisis standards of care, it can mean that there are more patients than the hospital has beds for. There might not be enough beds or equipment to handle patient loads, or there may not be enough staff to handle an increase in patients. Hospitals throughout the state are stressed on both fronts.
Beyond just caring for an increased patient load, hospital staff and their families are also affected by the pandemic. Even with the best personal protective equipment and highest safety standards, hospitals are seeing more fully vaccinated and boosted employees get sick with COVID-19. Healthcare workers are handling the pandemic on a personal level as well as caring for sick patients. Along with the increased stress, many patients and their families are pressured to the point of lashing out at doctors, nurses, and hospital staff, which puts additional and unnecessary burdens on the workforce. Everyone is struggling with this virus and healthcare workers are providing the best care possible; please be patient and courteous to hospital staff.
Despite the crisis standards of care announcement, Holy Cross Hospital is still here to care for our community. If you need emergency care, Holy Cross Hospital is here for you. The emergency room remains open 24/7 and the staff will provide the best care possible. There will likely be longer wait times, so please be patient with hospital staff as they do all they can to provide the care you need.
How crisis standards of care may affect hospital visits.
Increased wait times
As a result of these issues, we are experiencing longer than normal wait times in a number of our departments. For example, if you need to be admitted to the hospital, you may have to wait in the Emergency Department for an extended period of time while we find an available bed for you. Again, we ask you to be patient as we do all we can to provide the care you need.
The Transfer Process
Patients who need to be admitted to the hospital will be referred to the best care option for their specific medical needs. Our teams will work hard to find a bed for you at our hospital or at another hospital. Given high patient volumes across New Mexico and surrounding states, transfer to another facility may not always be possible. We will work hard to find appropriate placement for patients who need to be transferred.
If you require transport to a different care location, your insurance will be billed. If the only available bed is out of network for your insurer, we will work on that issue prior to your transport but cannot guarantee your coverage details.
If a bed is located for you at another hospital and you decline to be transferred, that bed will be offered to the next patient awaiting transfer and you may lose your place in line.
You can help reduce the burden on the hospital system and there are still plenty of ways to help stay healthy and safe. Get vaccinated, get boosted 5-months after your last dose, wear a hospital-grade mask, stay home if you are sick, practice social distancing, and avoid large crowds. Though breakthrough COVID-19 cases can occur, the COVID-19 vaccines have proven very effective at reducing symptoms and a patient's need for hospitalization.
Get Vaccinated
Get Tested